![if !ppt]> <![endif]>

<![if !ppt]><![endif]>

Confirming NEOCP FMOs
(Fast Moving Objects!)

<![if !vml]>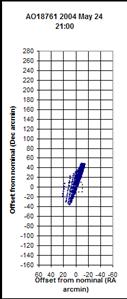 <![endif]> <![if !vml]>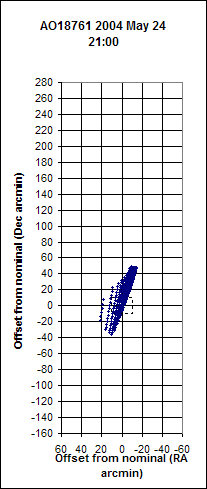 <![endif]>

•Example: AO18761

•discovered by LINEAR 2004 May 24 05:00 UT at mag +18.8, motion 34"/min •Added to NEOCP 14 hours later at 18:48 UT •By 2004 21:00 UT mag +19.3 motion 24"/min

•

•Prediction by the Minor Planet Center showing area of sky where object is likely to be • Position (0,0)  is the 'nominal' position, the most likely location to find the object.

•Each dot represents a 'variant' orbit.