Monday, 2017, August 14 - 20:55
Current images and drawings of Mars (2017-18)
Selected current images and drawings (2017-18) are displayed below, with a few comments from the Director. Images from BAA members' pages and from the online image galleries can also be linked to appear automatically upon the front page of the website, but comments will only be appearing in this section.
I shall try to update this page every couple of days throughout the 2018 opposition. Contributors must send their work directly to me, as I do not have time to search for new images on members' own pages! The most current observations will be posted at the top of this page. Note that we sometimes receive images quite a long time after they are made: some of these too will be uploaded here, so it is worth checking beyond the first images or drawings shown.
All images will be displayed with south uppermost, irrespective of any orientations that may be written upon them. Several websites exist (apart from the BAA one) for those who want to post all of their images online.
Here is a list of the observers to date:

M.Adachi, P.Abel, L.Aerts, T.Akutsu, D.Eagle, C.Foster, M.Hezzlewood, M.Hood, R.Iwasama, A.S.Kidd, T.Kumamori, S.Macsymowicz, R.J.McKim, P.W.Maxson, P.Miles, E.Morales Rivera, T.Olivetti, D.A.Peach, J.Sussenbach and M.P.Valimberti.
Many thanks to all of them. Good observing!
Richard McKim, 2018 March 20th

Observations and narrative, 2017-18
2018 March 16: Clyde Foster's images show that the W. side of Hellas is now strongly showing its ground colour: there does not seem to be any evidence of airborne dust. Up till now the whole basin was frosted. I suspect that the frost deposit on the west is simply evaporating first, and in fact the 2016 images of the planet at the same Ls show that the frost in the basin cleared from the north, and particularly from the NW part. More observations needed, please!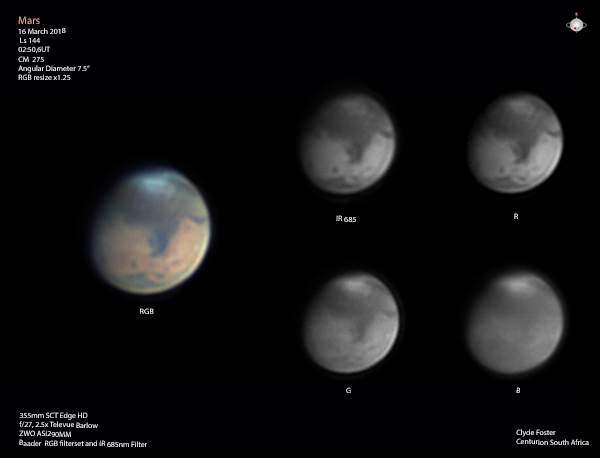 2018 March 7 and 10, by Valimberti and Kumamori respectively, showing the S. polar hood and bright Hellas.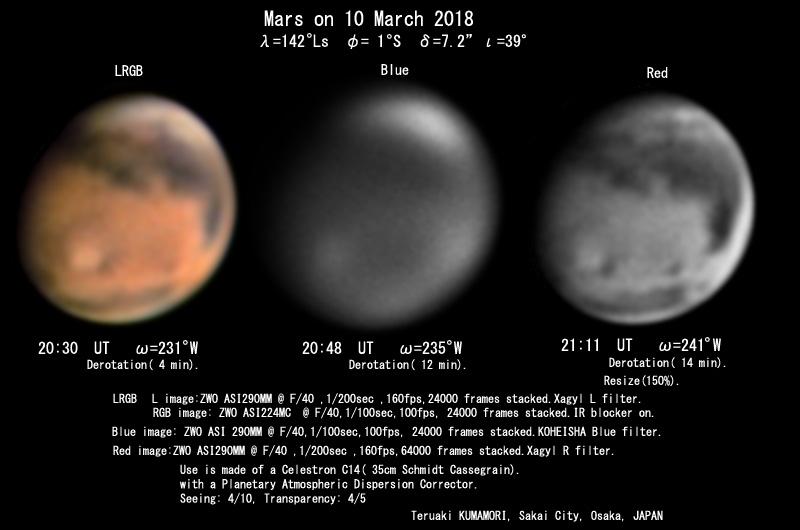 2018 March 5 by Foster, showing a small bright spot on the Nf. limb.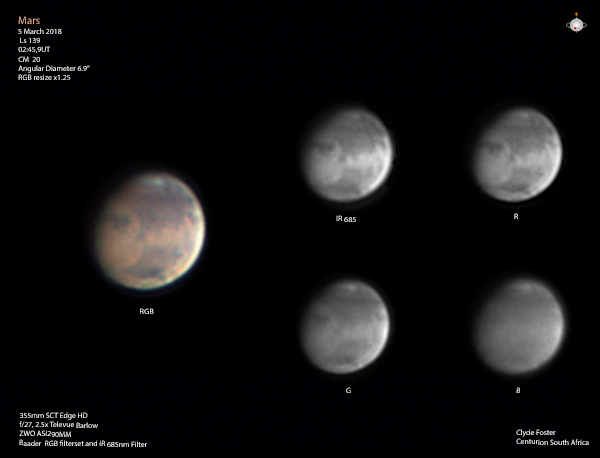 2018 March 3 by Foster. The southern basin Argyre is brighter than last month, and is located within the brighter S. polar hood visible at the top of the image.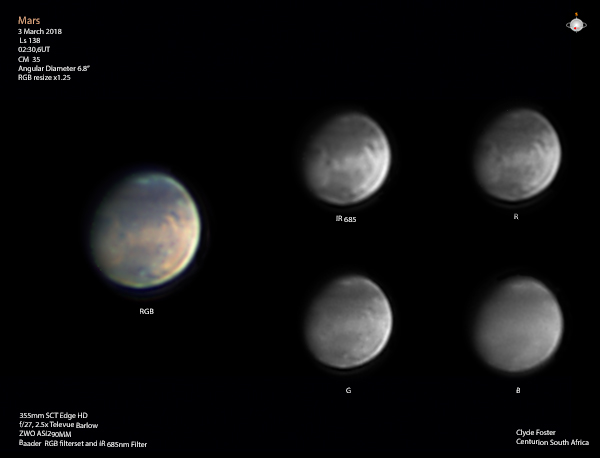 2018 March 2 by Clyde Foster. The unevenly bright S. polar hood is well seen in blue light, and in the RGB composite.
2018 March 1 by Phil Miles and Clyde Foster. This may be a good point to write that I am only uploading a selection of images here. Other organisations and websites specialize in uploading every image they are sent.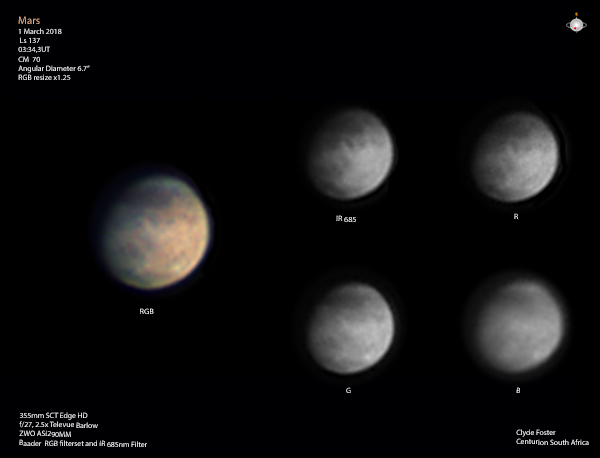 On 2018 February 26 Maurice Valimberti (Australia) captured the bright, frosted Hellas with a hint of ground detail in one part. Argyre is also bright on the morning side, just coming into view. The Syrtis Major is covered by the so-called 'Syrtis Blue Cloud' on the evening side as it approaches the evening terminator: but this phenomenon will not last much longer as the equatorial cloud causing it gradually fades and disappears at Ls = 145-150. (Today, Ls = 136.)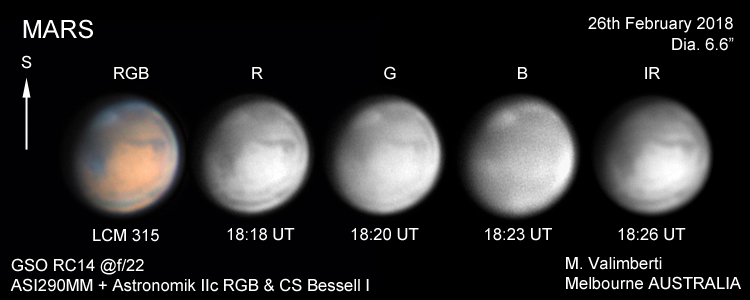 In 2018 February Peach sent us a number of good images with the 1 metre telescope and we have included three below. They show some unusually fine details around Syrtis Major and Utopia. One of them (February 19) shows a tiny dark spot marking the location of the classic E. end of Moeris Lacus, though this marking is currently neither large nor prominent. It was very large in some past oppositions, particularly in 1909. A feature of the February 18 image is the very fine dark streak going south from the Aetheria dark patch (at the NW border of Elysium). There were at least two parallel streaky extensions of this area across Aethiopis as a result of global dust activity in 2007, but they faded out over the next few oppositions. It is not to be seen in February 19 image, so seeing must play a big part in its visibility. Together with the image of February 15, this ensemble shows the bright frosted Hellas. The NPC is still clearly visible.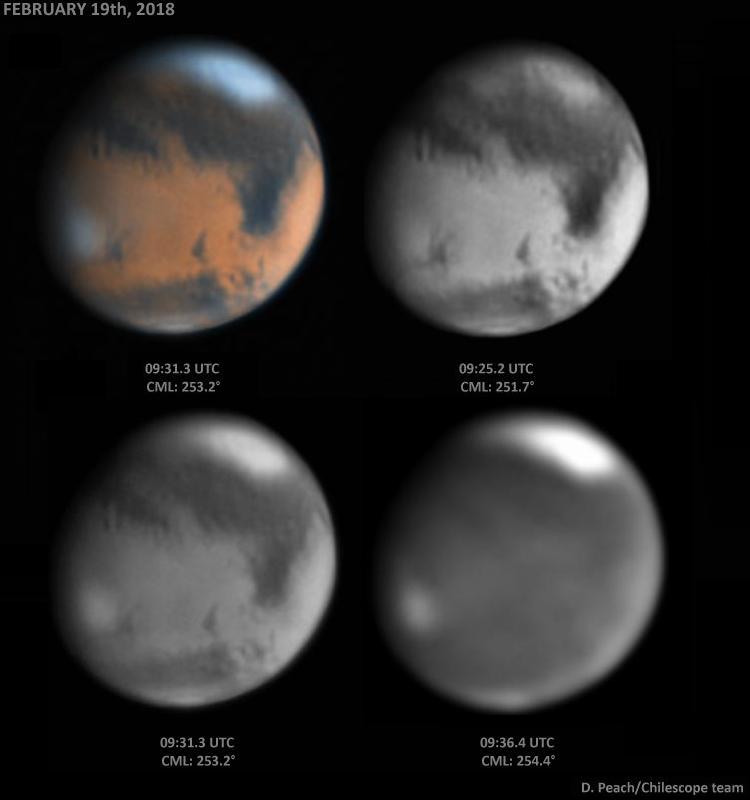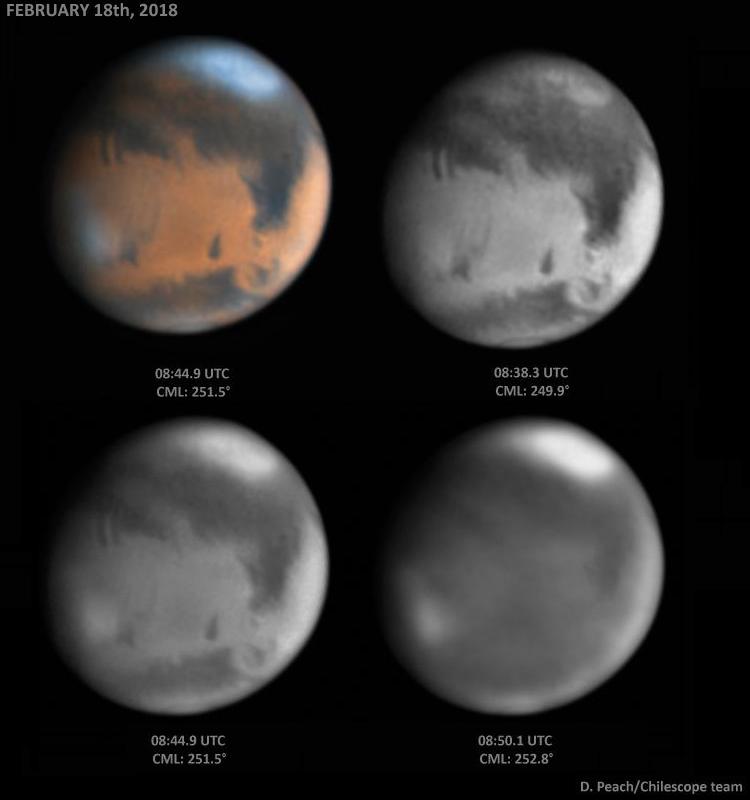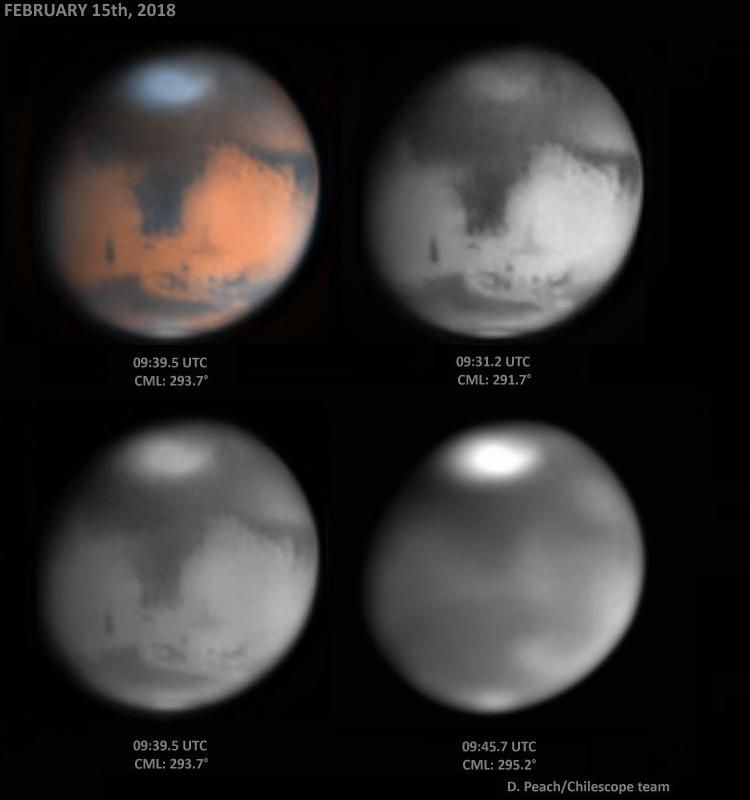 On 2018 Feb 6 Damian Peach's images with a 1 metre remote telescope in Chile suggested that the seasonal north polar clouds observed at the longitude of Baltia-Mare Boreum in the martian morning had commenced on time. We may have had a few earlier sightings of them: more observations, please!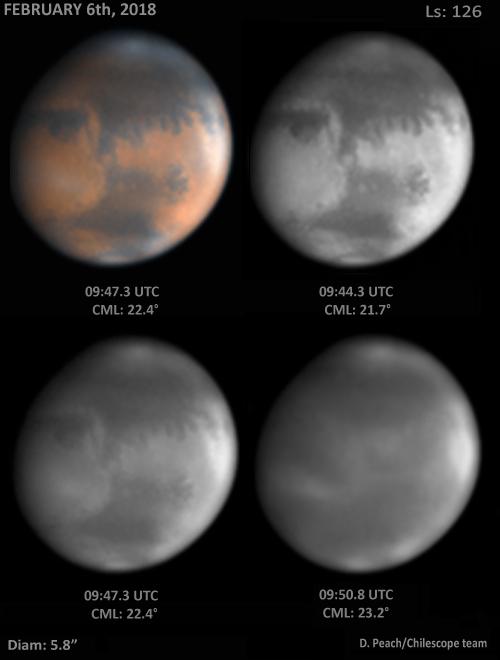 On 2018 Feb 5 and 6 Clyde Foster resolved the surface frost detail in Hellas. The coverage of the basin is not uniform, as was the case at a similar moment in the martian year in 2016. Here we show the image for Feb 6.
Another set of images with the Chilescope facility [see earlier] was taken by Damian Peach on Feb 2. Fine details around the W. end of Valles Marineris can be seen, and even the diminutive little dark spot of Juventae Fons shows up in this image with a large instrument. However, the dark streak running just E. of it is now more prominent. This is called Iamunae S. - Hydrae Palus on the Ebisawa map, and it looks a little different from its appearance in 2016. The much fainter but broader streak Ganges continues NW (north following) from them. The ECB is still present in blue light.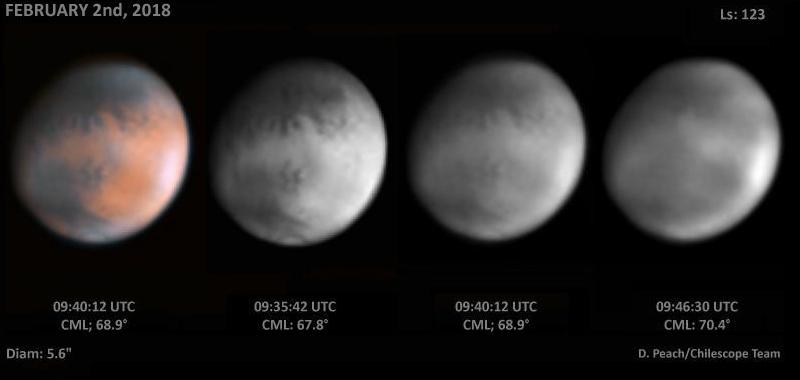 On 2018 Jan 28 Clyde Foster shot a normal view at CM = 011o. The equatorial cloud band is still visible, and will continue for some time. It is of interest that a small patch of white frost is detected in the south at Argyre.
On 2018 Jan 27 Damian Peach again made use of the Chilescope facility to get images of the orographic clouds over Tharsis and at Olympus Mons. There is no cloud at Arsia Mons at this time of afternoon, but the cloud over Alba in the north is weakly seen. Note that the equatorial cloud band is disrupted in the longitude of the great volcanoes.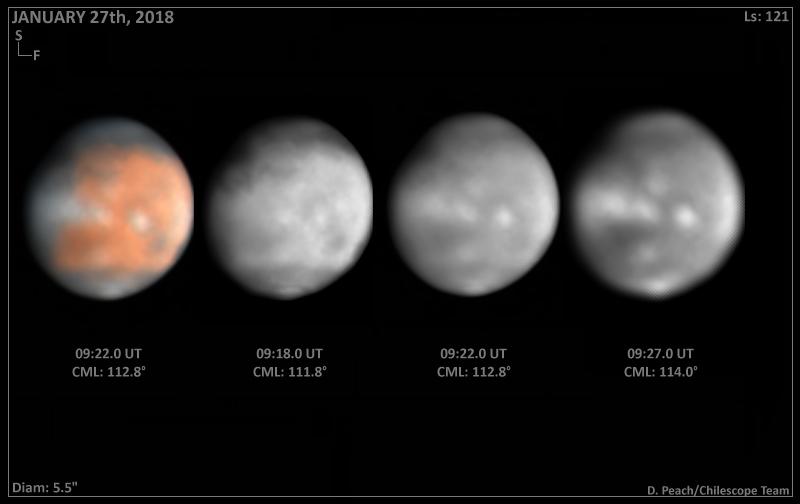 On 2018 Jan 24 Phil Miles took some excellent images from his home in Australia. We show only the RGB composite and the blue filter image here. The Equatorial Cloud Band is still present in blue light. In fact it is strong enough to completely blot out the Syrtis Major at the CM. And even in the RGB image you can see part of that cloud cutting across the feature. This is a regular seasonal feature, but it is always satisfying to see.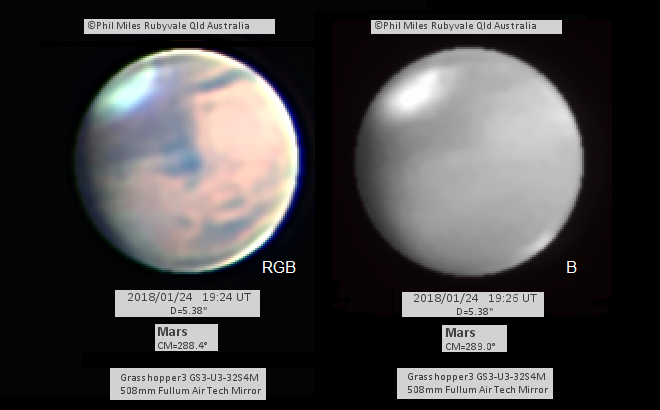 On 2018 Jan 17 Clyde Foster captured extensive white cloud along the equator. This is part of the so-called Equatorial Cloud Band (or Belt), and it is currently near its seasonal maximum. You will see that it is most prominent in blue light, but the RGB composite image also shows it well.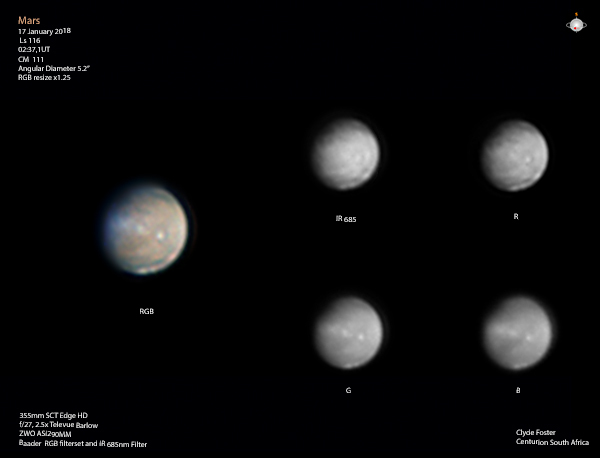 Clyde Foster's image of 2018 Jan 15 shows the orographic evening clouds over Tharsis. Notice that the cloud over Ascraeus Mons (the most northerly of the three volcanoes) is the brightest. The clouds above or trailing Pavonis and Arsia are weaker, and the Arsia cloud can only be observed close to the sunset terminator at this stage of the martian year. Just following the disk centre is the bright cloud over Olympus Mons.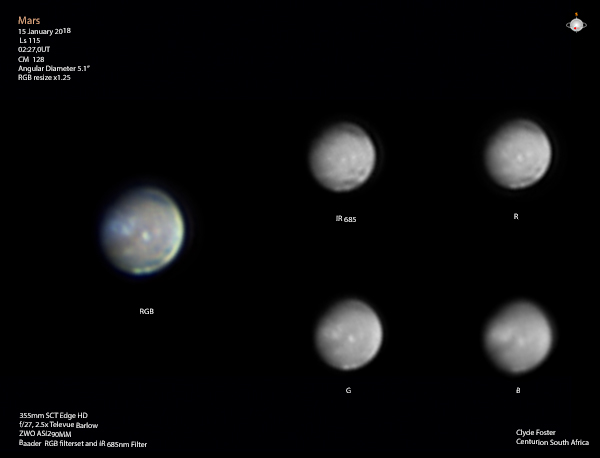 On 2018 Jan 14 Foster's image also captured the orographics nicely, but at a later hour of the martian day.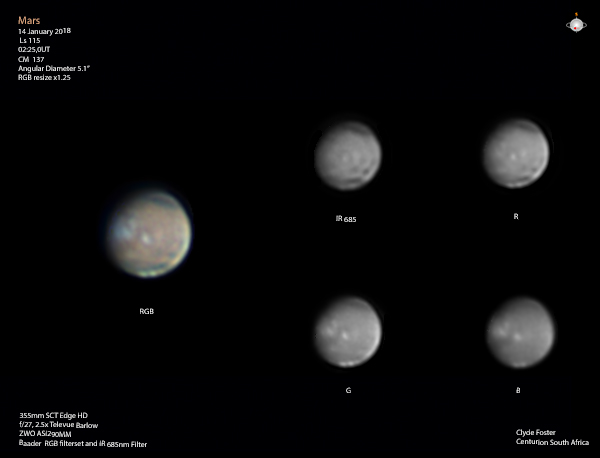 Here is an image from Paul Maxson for 2018 January 12. The RGB composite image shows the evening Syrtis Major looking very blue, due to the presence of thin equatorial cloud preferentially scattering blue light. The cloud can be seen cutting across this most famous dark feature, and the Syrtis more or less disappears in the blue filter image.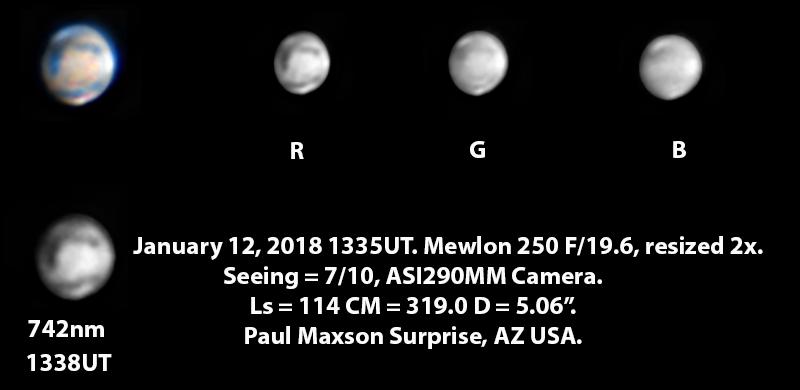 Living in Rubyvale, Queensland, Australia, Phil Miles has been well-placed to view Mars, and I am adding his images of 2018 Jan 8 to the gallery. This time the 'Eye of Mars' is central in the south, and remains large and dark at the present time.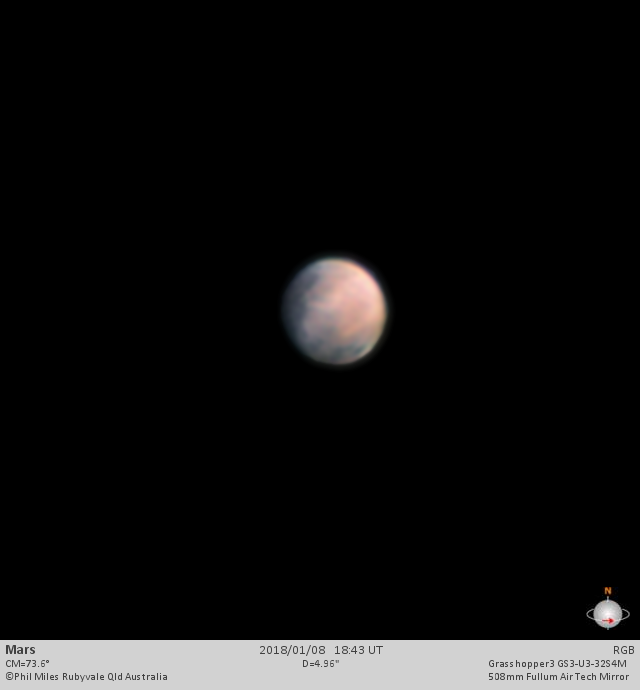 A close conjunction of Mars with Jupiter has been going on during early January. At closest approach on Jan 7 they were only a quarter of a degree apart. Several images have been received of this event, and I noticed that a number of other members have posted images at the website. I had a good view of the close approach on several mornings. Here we show a drawing in colour by Paul Abel of Leicester and a composite image by Dave Eagle.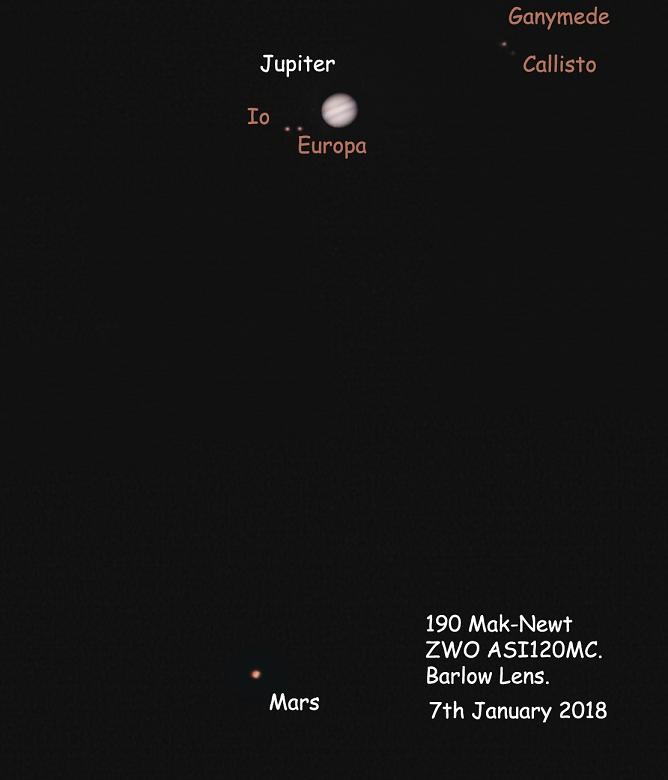 Damian Peach has been working with the Chilescope team, and as with the Siding Spring Observatory itelescopes (itel) you can book time to take images with that facility. Here is one set of images obtained by Damian from 2018 Jan 6: the telescope is a 1 metre one. The presence of the ECB in blue light is very clear, and it blots out the Syrtis Major on the morning side of the disk. Note the bright Hellas too. Damian has sent me a poster with more details of how to use this remote telescope, and I will send it by email to anyone who may be interested. It might be cheaper than an air ticket to the southern hemisphere!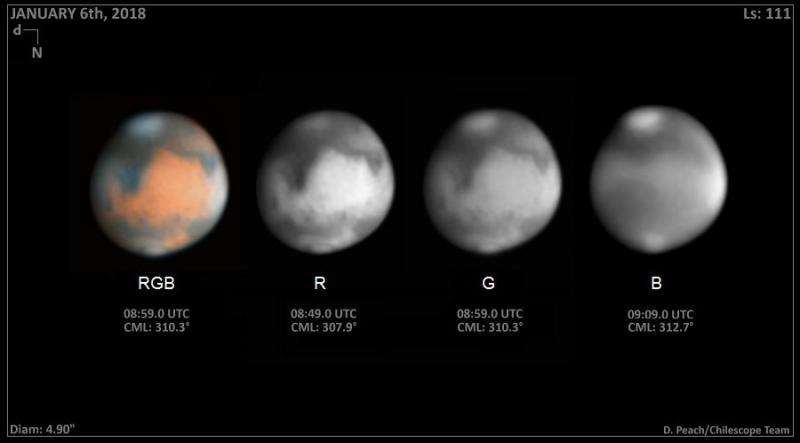 2017 December 9 saw Tiziano Olivetti at work. He lives in Bangkok, Thailand, and he uses a large aperture Dall-Kirkham for his imaging. The images are very crisp and show the Solis Lacus central in the S. hemisphere, with various equatorial white clouds on show.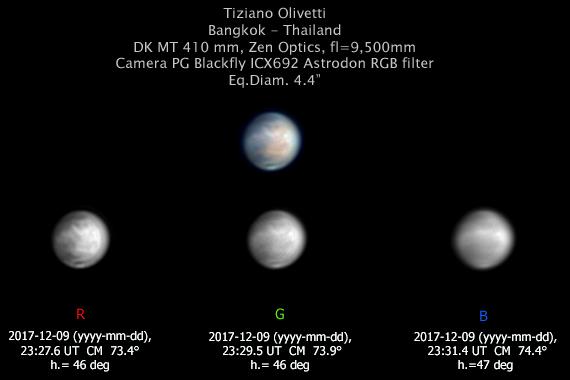 On 2017 December 4 Simon Kidd took a good image of the 4 arcsecond diameter disk.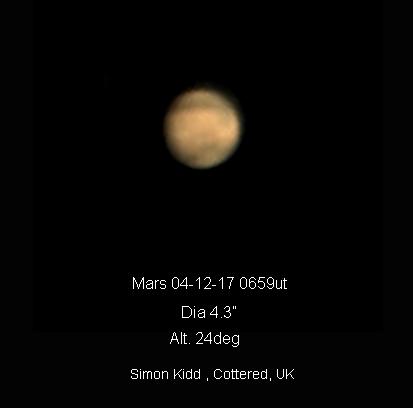 On 2017 November 27 Mike Hood in the USA obtained a nice image showing Mare Acidalium near the CM.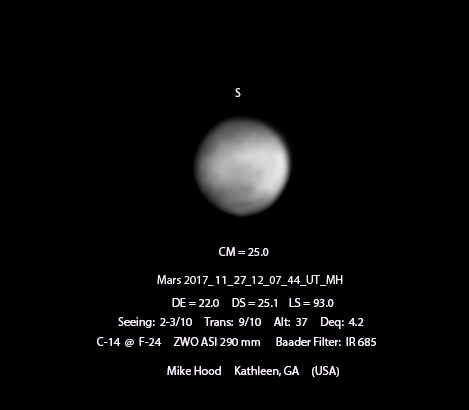 Also based in the USA, and this time in Arizona, Paul Maxson always manages to get in a lot of early morning observations. Here is a very successful image from 2017 November 5, with the disk diameter still below 4 arcseconds. Yet he caught the bright Hellas and the evening cloud at Elysium! The Mewlon brand is a Dall-Kirkham Cassegrain telescope. Like many observers Paul often inserts a preview image for comparison.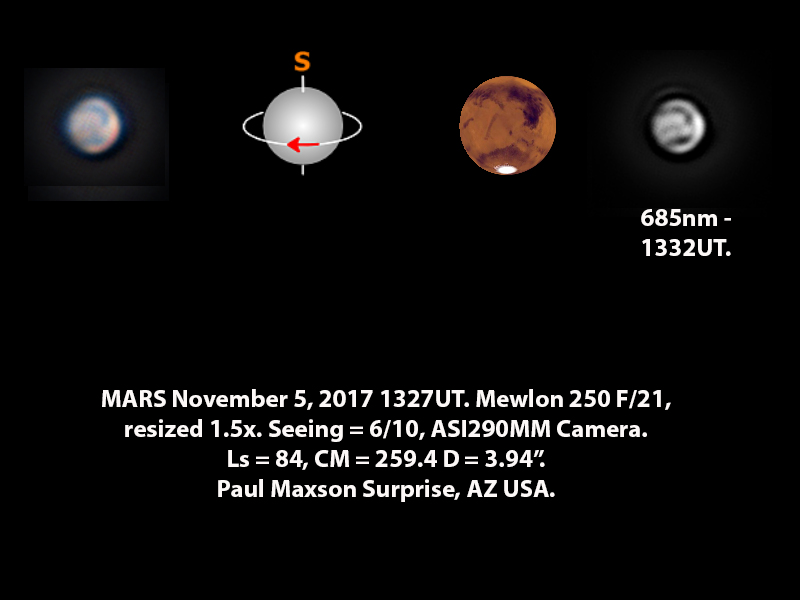 On 2017 October 31 Teruaki Kumamori of Japan took an excellent red image with Mare Acidalium-Nilokeras prominently on view in the northern hemisphere. The dark patch next to the N. polar cap is Hyperboreus Lacus. we have used several of this observer's apparition maps in the Mars Section reports.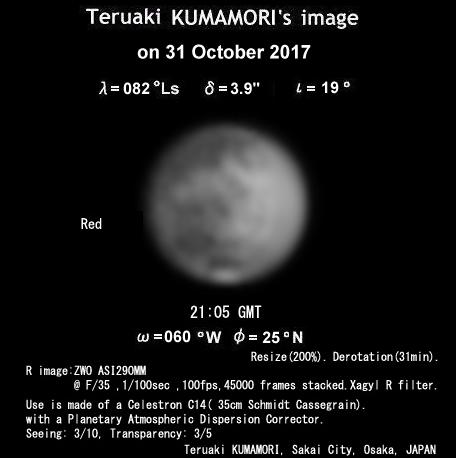 ..............