Hi,
After sitting in a box for well over 10 years I decided it is time to examine the possibilities of using a mirror that I was given before it hit the skip! Sadly I didn't get to the rest of the hardware before that particular skip had been taken away...
It is a 16 inch f2 from either a Schmidt or a fast Cassegrain astrograph. So it's a deep mirror. It was in pretty poor shape when I got it but yesterday I stripped of the old coating and the surface, visually it looks good. I'll need to coble together some test gear to see what the figure is really like.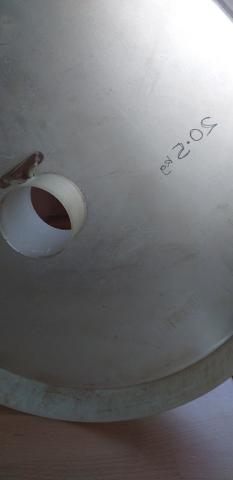 The big chip was done during the disassembly I was told but is on the back of the mirror. I've ground out some of the sharp looking fractures and hopefully it won't be an issue. This thing is 3 inches thick and weighs a hefty 20.5kg!
So the question is, has anyone had a mirror re-coated by Orion Optics? These guys are currently first choice as I can drive to them the stay local. Any comments, honest user reviews are always the best source of info...
Cheers,
Bill.