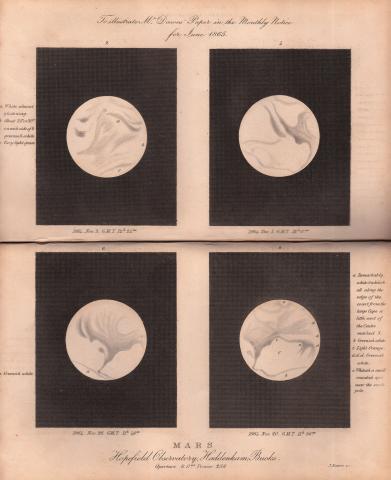 In researching a talk about Lockyer's observations of Mars I came across this wonderful plate of Dawes' drawing of his famous "Forked Bay". 
From Monthly Notes of RAS - June 9th 1865
"On the Planet Mars" - by Rev. W.R. Dawes
".......Another interesting object was the forked shading, depicted on Nov. 10th , 14th  & 20th.
This object I saw repeatedly in 1852 as an oval bay with a regular coast, and never once expected it to be divided, or irregular in its outline. But, in 1862 Sep 22nd with the Alvan Clark's 8.25" O.G. I discovered it to be distinctly forked and depicted it so at the time. During the last opposition however, I never obtained a moderately good view of that part of the disk without plainly perceiving this curious forked shape – giving the impression of two very wide mouths of a river, which however I could never trace. This feature I have never seen  depicted in any drawings of the planet. In Mr. Lockyer's excellent pictures representing his observations in 1862, that portion of the disk is repeatedly introduced, but it was never seen to be divided.
It will form a very interesting object for scrutiny in future oppositions, to ascertain whether its forked character is permanent or variable. It may be, that the sea has receded from that part of the coast and left a tongue of land exposed."
I never realised he originally saw it as a fork with 4 prongs, I've only seen it with two!
David