The Journal of the British Astronomical Association
Volume 113, No.3: 2003 June
Contents
On this page: Notes and News / Articles / Observers' Forum / Letters / Reviews / Meetings / BAA Update
---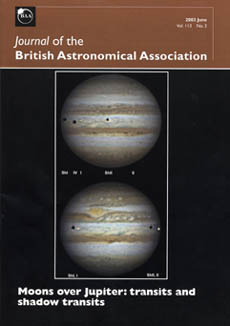 On the cover
Satellites and their shadows in transit across the face of Jupiter. These exceptionally high-quality images show some of the recent multiple satellite transits, and even resolve the dark reddish polar caps on Io. The satellites and shadows are projected on the equator, and are identified by labels below each image. South is up. See the article on page 128.
Top: 2003 January 18, 00.43 UT, CM1 = 98.9, CM2 = 226.7; Damian Peach (Tenerife). This was taken during the remarkable triple transit. Callisto (IV) is dark, Io (I) has a bright equatorial region, and Europa (II) is just discernible because of its dusky equatorial region.
Bottom:2003 January 28, 15.20 UT, CM1 = 54.7, CM2 = 101.5; Eric Ng (Hong Kong). Five nights before opposition, Io and Europa and their shadows are poised on opposite sides of the planet.
---