The Journal of the British Astronomical Association
Volume 115, No.6: 2005 December
Contents
On this page: Notes and News / Articles / Observers' Forum / Reviews / Meetings / BAA Update
---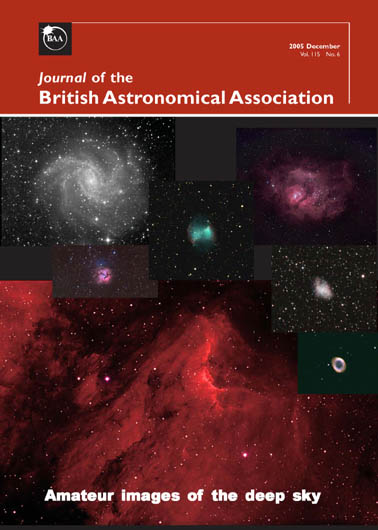 Cover photos: Amateur images of the deep sky
A selection of recent images contributed by members of the Deep Sky Section. Clockwise from top left:

Spiral galaxy NGC 6946 in Cepheus. Ron Arbour.
Planetary nebula M27, the 'Dumb-bell' in Vulpecula. Martin Morgan-Taylor.
Diffuse nebula M8, the 'Lagoon' in Sagittarius. Gordon Rogers.
Supernova remnant M1, the 'Crab' in Taurus. Peter Carson.
Planetary nebula M57, the 'Ring' in Lyra. Nigel Bryant.
Diffuse nebula IC 5067, the 'Pelican' in Cygnus. Gordon Rogers.
Diffuse nebula M20, the 'Trifid' in Sagittarius. Gordon Rogers.

---