The Journal of the British Astronomical Association
Volume 116, No.2: 2006 April

Summary contents page
Detailed contents: Notes and News / Articles / Observers' Forum / Reviews / Letters / Meetings / BAA Update
---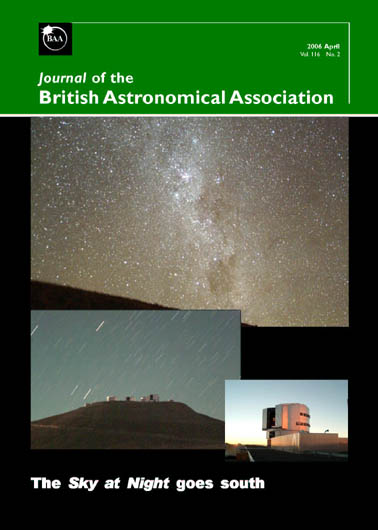 On the cover: The Sky at Night goes south
Photos taken at the Cerro Paranal Observatory, Chile, by Damian Peach. (See the article on page 66).
Lower left: The Very Large Telescopes at Cerro Paranal are among the world's premier astronomical facilities. This view shows the stars setting over Paranal Mountain, with the telescopes in action.
Top: The Milky Way in the Carina/Crux region of the sky, rising from Paranal. The dark patch of the Coalsack is readily apparent, as is the Eta Carinae nebula. 3 mins guided, Fuji S2 Pro DSLR, 28mm lens.
Lower right: The huge silver dome of UT1 (Antu) lit by the setting Sun.
---