[7] The continuing SEB outbreak (report, 2007 June 3rd)
---
Here is a compilation of the images of the ongoing mid-SEB outbreak (SEB Revival?). Many thanks to Daniel Chang, Hideto Fukui, Tomio Akutsu, Antonello Medugno, and Chris Go, and to the ALPO and the ALPO-Japan who provided some of their images.
As Chris Go and others have noted, the outbreak is still developing, although slowly. On the SEBn, the big bright white spot on ithe outbreak's north edge in late May was the SED, passing by, nothing to do with the mid-SEB outbreak. In the mid-SEB, new small but bright spots have developed and the disturbance is slowly spreading eastward, as usual. On the SEBs, STrD-2 was darkened in the first few days of the outbreak by dark material from it, but now it seems to have faded again (as Chris said): instead, 2 or 3 dark grey spots are retrograding past it on SEBs. It will be very interesting if HST images can show whether these are anticyclonic rings, typical of disturbance on the SEBs jetstream.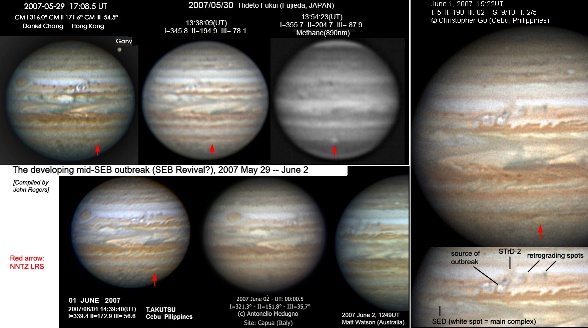 It is possible that this is the start of the SEB Revival. The only argument against this is that it is premature. But I have checked the history and there were precedents in 1949 and 1955 when SEB Revivals started before the SEB was fully faded. Indeed the present activity is very similar to the start of the 1949 Revival (see my book p.176): it started as a brilliant white spot in a dark mini-barge in the incompletely faded SEB(S), and a second white spot did not appear till about 2 weeks later. The present mid-SEB outbreak seems to be developing slowly (as we are watching it so intensely!), but the rate of progress is typical of the early stages of SEB Revivals.
If so, there is much excitement still to come!
John Rogers,
Jupiter Section Director,
British Astronomical Association.
---