The "Geminid Meteors"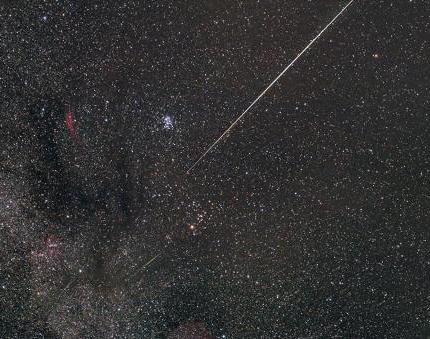 About this observation
Time of observation
14/12/2017 - 00:30
Observing location
Near Tarifa, Spain
Equipment
Canon 6D DSLR (astro-modified)
Samyang 14mm f/2.4 lens at f/2.8
Astrotrac mount

Exposure
All 30 second exposures at ISO 1600
This shot of the 2017 Geminids was taken by Ian Sharp at a location near to Tarifa in south western Spain. It is a composite of 6 images, all taken on the night of 13/14 Dec 2017.
The background image is a stack of 20 of the 30 second exposures he was taking for the meteors. The 6 meteor shots were then overlaid and blended using the "layers" functionality in Photoshop.

The bright meteor was seen and estimated to have been about Mag -1.
Copyright of all images and other observations submitted to the BAA remains with the owner of the work. Reproduction of the work by third-parties is expressly forbidden without the consent of the copyright holder. For more information, please
contact the webmaster
.