Hi,
The Geminids put on an impressive show from Tenerife. I determined the ZHR to be 128 +/-11. There were several meteors per minute at some points.
The interesting thing about this years display is that modelling done by Ryabova and Rendtel indicated that this year the Earth might encounter particles shed from the parent body Phaethon at its perihelion passage in 2009.
The standard theory is that the particles from Phaethon are well "baked" due to their close perihelion distance so they have less volatiles in their make up. This is usually the explantion for low sodium line strength in their spectrum.
I caught over 30 spectra on my excusrion with 10 being viable. Below is a spectrum of the brightest fireball. It is clear this has quite a strong Na line (5890A on the graph) relative to the Mg (5175A) line so just perhaps this is one of those "fresher" particles that has not been baked out quite so much ....?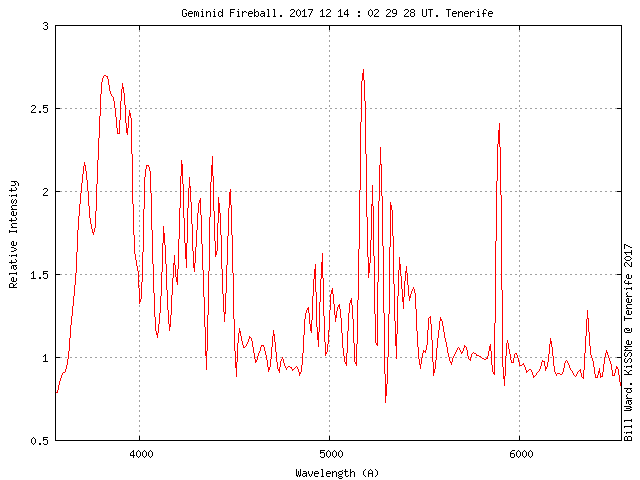 I'll get a better handle on this when I fully process all the others but it's a fascinating start!
cheers,
Bill.