A few measurements made of C/2017 S3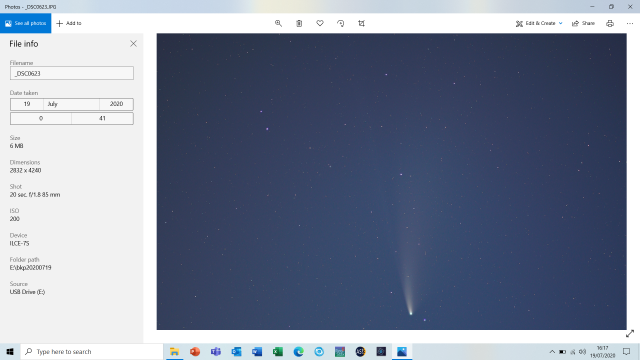 About this observation
Time of observation
19/07/2018 - 23:12
Observing location
Tynemouth, UK
Equipment
200mm SCT @ f/6.3
ASI183MM
Baader UV+IR cut
FireCapture, DeepSkyStacker and Maxim DL

Time stated is UT.
This is a pseudo-colour representation of the FITS image. I conservatively estimate the coma diameter at 5.6 arcmin. Nick James' most recent estimate of the coma diameter - at 6.2 arcmin - can probably be attributed to the better sensitivity of his equipment. The ion tail is pointing at PA 300deg, which (reassuringly) is in the anti-solar direction.
Copyright of all images and other observations submitted to the BAA remains with the owner of the work. Reproduction of the work by third-parties is expressly forbidden without the consent of the copyright holder. For more information, please
contact the webmaster
.