Comet DM001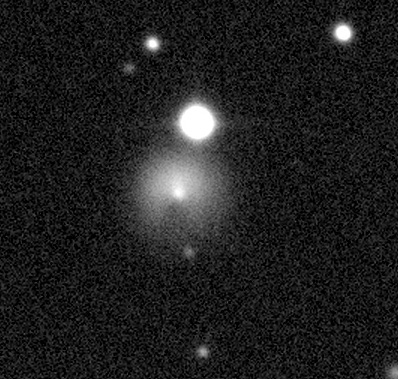 About this observation
Time of observation
11/11/2018 - 05:41
Observing location
Tarbatness, Scotland
Equipment
Takahashi Epsilon 160 f/3
ASI294MC

Denis Buczynski and I managed to image this new comet this morning although conditions were not ideal with quite a bit of mist and cloud. This is a single 120s exposure but it does show the thin ion tail. The latest elements, including our astrometry from this morning are:
Perihelion 2018 Dec 3.888758 TT = 21:19:48 (JD 2458456.388758) Epoch 2018 Nov 11.0 TT = JDT 2458433.5 Earth MOID: 0.1251 Ve: 0.0092 M 359.25734 (J2000 ecliptic) n 0.03244645 Peri. 89.88340 a 9.73549187 Node 128.15926 e 0.9604683 Incl. 144.00842 P 30.38 H 11.0 G 0.15 q 0.38486004 Q 19.0861237 From 234 observations 2018 Nov. 8-11; mean residual 5".39
Copyright of all images and other observations submitted to the BAA remains with the owner of the work. Reproduction of the work by third-parties is expressly forbidden without the consent of the copyright holder. For more information, please
contact the webmaster
.