IC5146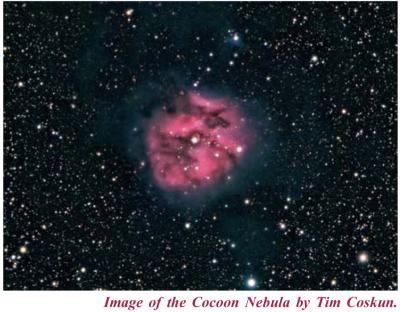 About this observation
Observer
Paul Anthony Brierley
Time of observation
24/11/2018 - 07:22
Observing location
Whirlpool Observatory SK11
Equipment
Altair 115 EDT F7
Atik 428ex CCD + EFW II
H-Alpha 7nm

When there's nothing to do and it's cloudy. I like to see what I have missed, processing wise on this computer.
And guess what. I found some images of the Cocoon Nebula (IC 5146) that I took back in 2017.
I have no details available except it is Ha and probably shot with 600-second subs.
Processed in Startools and finished off in CS5. I used AstroFlat Pro to clean up the background plus Astronomy Tools Space Noise Reduction.
Copyright of all images and other observations submitted to the BAA remains with the owner of the work. Reproduction of the work by third-parties is expressly forbidden without the consent of the copyright holder. For more information, please
contact the webmaster
.