Uranus (and some its moons) amongst the stars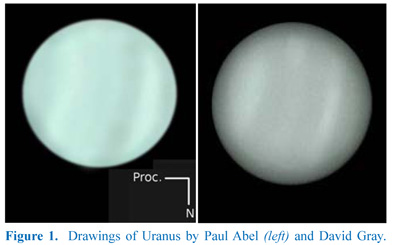 About this observation
Time of observation
09/10/2019 - 20:53
Observing location
Tynemouth, UK
Equipment
200mm SCT
Hyperstar
ASI178MM
Baader UV+IR cut
Maxim DL

Dancing in attendance of Ouranos here are Titania and Oberon, just above the planet in this image. The FL of the C8 Hyperstar is only 400mm, so the other moons are not really accessible with this config.
Copyright of all images and other observations submitted to the BAA remains with the owner of the work. Reproduction of the work by third-parties is expressly forbidden without the consent of the copyright holder. For more information, please
contact the webmaster
.