Jones 1 planetary nebula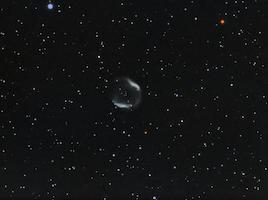 About this observation
Observer
Graham Winstanley
Time of observation
28/11/2019 - 23:00
Observing location
Bassingham, Lincolnshire
Equipment
Skywatcher ED80
Pier mounted NEQ6
QHY IMG2PRO at -10 deg
oag camera ASI120MM
Baader OIII 8nm; Astronimk RGB filters

Exposure
OIII 15 x 300s; RGB 15 x 30s per filter
I also collected 20 subs of OII on 13 October but conditions were poor, reflected by the quality of the results, and also had some rotation of the camera between the two sets.
Processing in Pixinsight.
Copyright of all images and other observations submitted to the BAA remains with the owner of the work. Reproduction of the work by third-parties is expressly forbidden without the consent of the copyright holder. For more information, please
contact the webmaster
.