Horsehead and Flame nebulae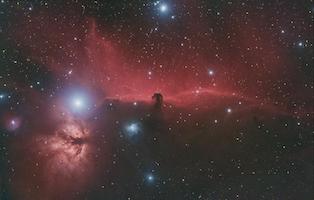 About this observation
Observer
Callum Scott Wingrove
Time of observation
04/12/2019 - 23:40
Object
Horsehead and Flame nebulae
Observing location
Stanmore Greater London
Equipment
Skywatcher Evostar ED80
ASI294MC Pro
Skywatcher HEQ5 Pro
ASIAIR

Exposure
Duo Narrowband filter (60 x 3 min), IDAS NGS1 filter (60 x 4 min)
Like This Image
Share
This was an experiment to combine narrowband and broadband data plus the challenge of processing this image and bring out some finer detail without over exposing Alnitak. At 7 hours it's the longest integration time I have done so far from my Bortle 8 skies. Processed in Astro Pixel Processor.
Copyright of all images and other observations submitted to the BAA remains with the owner of the work. Reproduction of the work by third-parties is expressly forbidden without the consent of the copyright holder. For more information, please
contact the webmaster
.