NGC 2403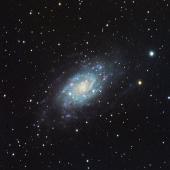 About this observation
Time of observation
21/01/2020 - 20:00
Observing location
St Austell, Cornwall UK
Equipment
Celestron 235mm EdgeHD
CGEM
Celestron 10100 OSC CCD
Loadstar X2 guide camera
Off-axis guiding

Exposure
32x600-seconds, /f7
Galaxy NGC2403 in Camelopardis: RA(2000) 07h36m51s Dec +65 33' 23"
Telescope focused at the ambient temperature of 4.5C. and refocused at 2.5C. The telescope was pier flipped at 00;30UT and imaging continued.
A total of 32x600s images were collected. Image calibration, alignment, integration and processing carried out with PixInsight.
The Nightscape 10100 OSC CCD was set at 1x1bin and the TEC set at -=15C. Image scale is 0.6arcsec per pixel and field of view approximately 35x20 arcmin.
This image was significantly improved using PixInsight Drizzle Integration rather than the standard integration process. The outer faint arms of the galaxy, in particular, had a significantly improved SNR and hence contrast with the background.
Copyright of all images and other observations submitted to the BAA remains with the owner of the work. Reproduction of the work by third-parties is expressly forbidden without the consent of the copyright holder. For more information, please
contact the webmaster
.