Sir Patrick Moore Prize 2020
| | |
| --- | --- |
| | Friday, 2020, March 27 - 19:43 |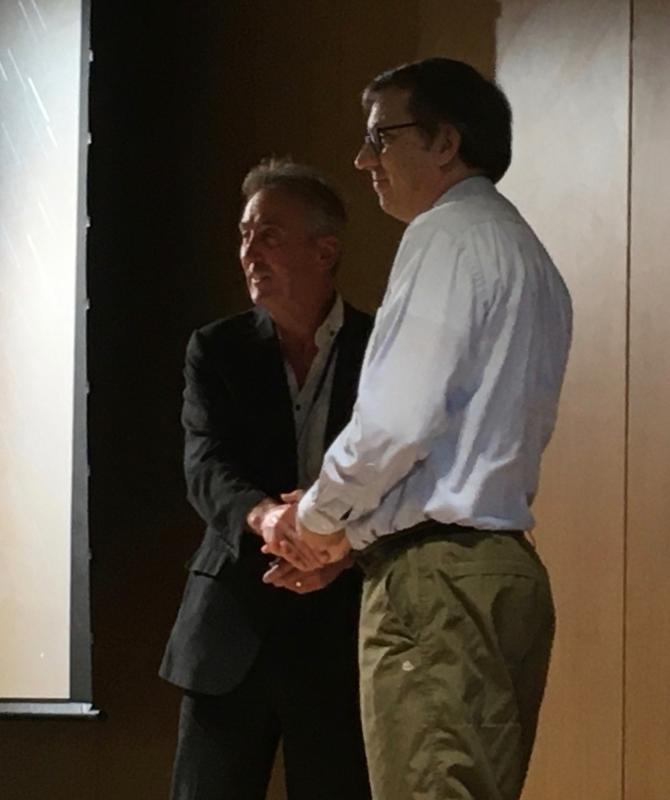 The annual Sir Patrick Moore Prize of £500 plus a year's membership of the BAA may be awarded to any person, group, society or school (whether member/affiliate of the BAA or not) for one or more of the following areas of activity, selected to reflect Sir Patrick's life and enthusiasms:
1. The encouragement of a public interest in astronomy
2. A contribution to the understanding of the history of astronomy
3. Outstanding observational work by a member or members under 21 years of age
4. The encouragement of participation in observational astronomy by youngsters
5. The carrying-out of a collaborative research project, whether between amateurs only, or also involving professional astronomers.
Last year's prize was awarded to Dr Stephen Barrett (pictured right with President Alan Lorrain) for his work giving talks on astronomy to diverse groups of people all across the midlands and north of England..
Council is now inviting nominations for this year's Prize. Nominees may be nominated by themselves or by another. Please send nominations, including a short statement explaining the reason the person should be considered for the awarding of the Prize, to Madelaine Davey at the Office (email office@britastro.org) by September 30. Nominations will be considered by a committee, which will make a recommendation to Council, and the Prize will be presented at the Christmas Meeting, if possible.
David Arditti (Chair, Sir Patrick Moore Prize Committee)
Like This Article