Comet C/2020/F3 Neowise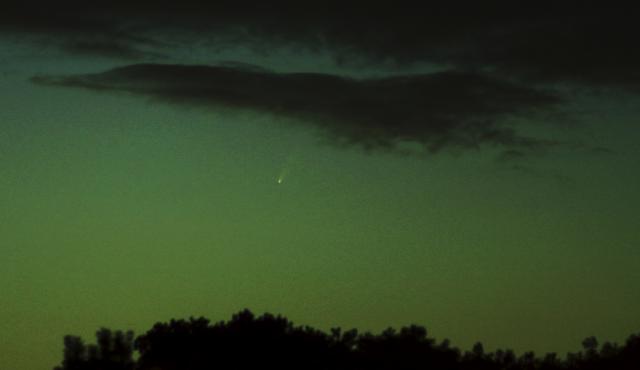 About this observation
Time of observation
06/07/2020 - 02:25
Observing location
Crawley West Sussex
Equipment
Sony 65a Slt
Samyang 85mm F1.4
Tripod mounted on Window ledge.

Exposure
ISO 200 1.25sec F1.4
Started this mornings observing from small bedroom looking North East at 01.30 U.T. and continued until 04.10 when Dawn light became over powering . Sky conditions did not look good only Polaris , Capella and the W of Cassiopeia could be seen at the start of observations and conditions failed to improve. Nothing of the Comet could be seen either naked eye of using 10x50 Binoculars. However in imaging using the Lens and camera combination as above the comet was captureds on 5 frames . During observing I has the Site Heavens- Above.com running and updating it as time passed to try to move the camera to where I guessed was the correct position along the Horizon.
Very very happy with the outcome. Many thanks to Nick James and Peter Carson for their advice over the past days .
Copyright of all images and other observations submitted to the BAA remains with the owner of the work. Reproduction of the work by third-parties is expressly forbidden without the consent of the copyright holder. For more information, please
contact the webmaster
.