Comet NEOWISE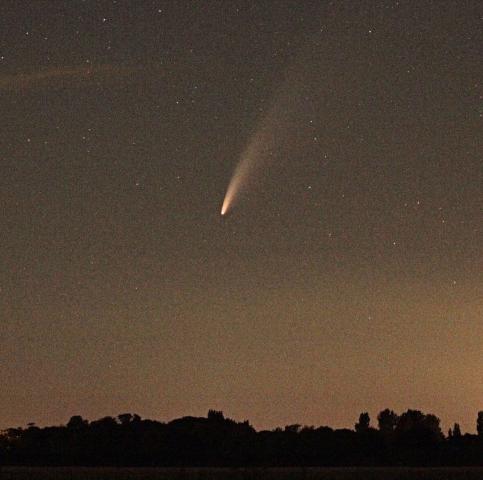 About this observation
Time of observation
10/07/2020 - 23:45
Observing location
North West Leicestershire
Equipment
Canon EOS 200D
Canon EF 200mm F2.8 USM

Exposure
20 x 0.8 sec, F3.5, ISO 800
First spotted the comet using binoculars at around 23:00 and was able to image the comet from the pavement in front of my house. Air traffic has certainly increased, out of the 25 images I managed to take, 5 were photo-bombed by planes taking off or going into East Midland Airport. By 00:15, the comet was clearly visible to the naked eye.
PIPP was used to carry out the RAW file processing, rough alignment and initial cropping. The stars and then the comet alignment and the final processing was carried out using IRIS. The cropped image FOV is 2.2 x 2.5 degrees.
Copyright of all images and other observations submitted to the BAA remains with the owner of the work. Reproduction of the work by third-parties is expressly forbidden without the consent of the copyright holder. For more information, please
contact the webmaster
.