Some results of an X-ray Computed Tomography scan of the meteorite fall of 28 February 2021.  The CT video gives you a fly through journey through the meteorite showing the insides.  There is a stunning example of the appearance and disappearance of a striated chondrule at the upper part of the first video.  The second video includes the fusion crust and extensive cracking patterns originating from the crust inward.  Chondrules are silicate minerals such as olivine and pyroxenes found inside chondrite meteorites. They form as molten droplets in space before they coalesce with other material to form asteroids.  Chondrites are one of the oldest materials within the solar system, thought to be from which planets were made from. 
Please like the videos and give a shout out in the comments for this first class outstanding work by Dr Ria Mitchell, Sheffield. Well done!
Credits: Ria Mitchell and Ian Ross, Sheffield Tomography Centre, Dept. Materials Science & Engineering, Kroto Research Institute.  Carl Smythe, Dept of Biomedical Science, The University of Sheffield.
Woodmancote Meteorite Fragment CT Scan showing chondrule
https://www.youtube.com/watch?v=Xy-afMUhoeQ
Woodmancote Meteorite Fragment Fusion Crust Fly-through
https://www.youtube.com/watch?v=AfaNV1zR6Vw
Nb. Still images below have been automatically compressed to fit with website allowance. 
Whole Fragment Scan [Field of view 4.2 x 4.2mm. Voxel size 4.19mm]. Ria Mitchell.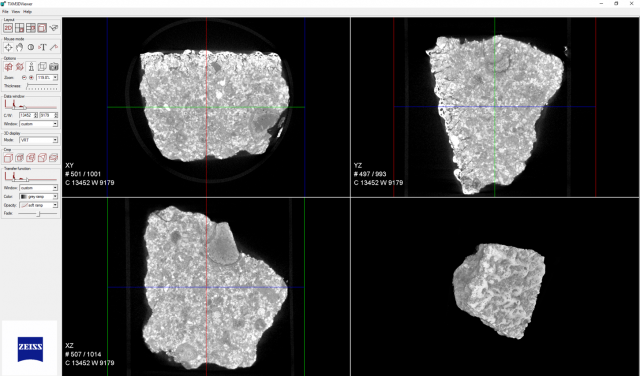 Fusion Crust [Field of view: 1.5 x 1.5mm. Voxel size 1.57mm]. Ria Mitchell.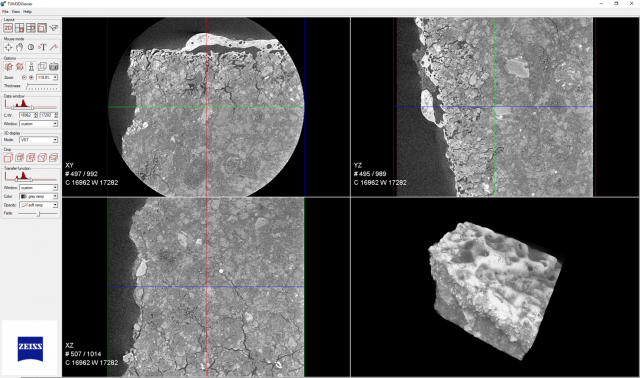 Striated chondrule. [Field of view: 1.5 x 1.5mm.  Voxel size ('resolution'): 1.57mm]. Ria Mitchell.
The above work is part of a programme of scientific research being carried out on a meteorite found during a Government-approved meteorite search in March this year by the East Anglian Astrophysical Research Organisation - an educational charity to encourage and inspire people to pursue STEM subjects, whilst undertaking meaningful space research projects