BAA Handbook 2021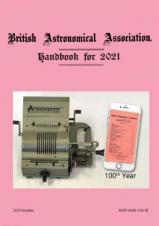 The Handbook of the British Astronomical Association is free to members each year, and is normally supplied with the October Journal. Non-members can purchase the Handbook here.
The contents include:
Sky Diary
Visibility of the Planets
Eclipses
Earth, Sun and Moon information
Lunar occultations
Ephemerides for Mercury, Venus, Mars, Minor Planets, Near Earth Asteroids, Jupiter, satellites of Jupiter, Saturn, and satellites of Saturn.
Charts for Uranus, Neptune and Pluto
Ephemerides of Bright Comets
Meteor Diary
Ephemerides of Exoplanets
Variable Stars
Visual Binary Stars
Bright Stars
Active Galaxies
and much more...
This product is available to BAA members at a discounted price. To claim this discount you must be logged into the website and have entered a valid BAA membership number in your account details. Log in or join the BAA today to qualify.
BAA member price: £13.00
Standard price: £15.00
---
We process and/or ship all orders within 28 days of receipt, except where explicitly indicated otherwise. All prices listed on the BAA website include VAT where applicable but exclude P&P. A small charge for this may be added at the checkout according to your order's weight and destination. For more information please see our terms and conditions.