Eclipsing Binary Observing Guide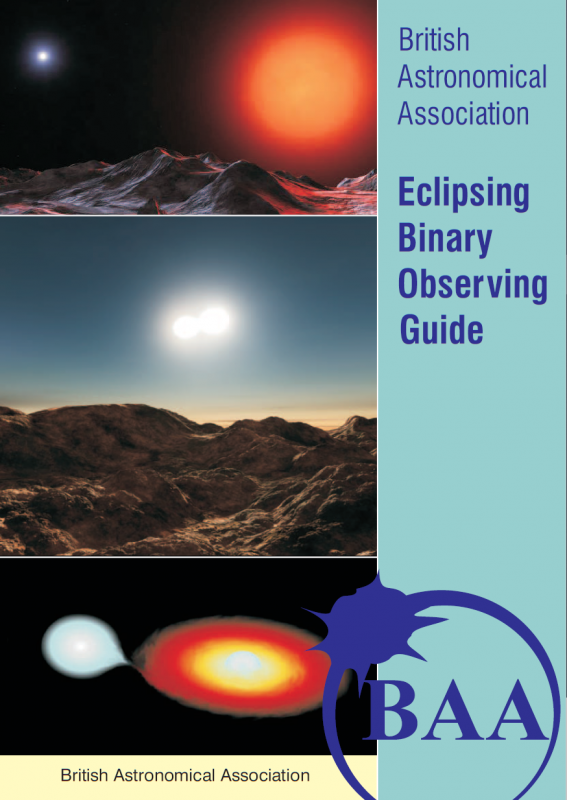 Revised edition of the Eclipsing Binary Observing Guide published in 2021 (original 2011).
Eclipsing binaries can be studied with a range of techniques, all the way from simple naked eye observations of some of the brighter systems, through using binoculars or small telescopes, via imaging with DSLR cameras, all the way to sophisticated electronic imaging systems. This handbook provides the observer with a detailed guide to observing these objects. It covers the basic categories of eclipsing binaries, which stars the beginning observer might like to follow, how to interpret the resulting light curve and how to extract the all-important "time of minimum", corresponding to mid eclipse.
Please note the Eclipsing Binary Observing Guide can be downloaded from the VSS website in PDF format for free.
Teaser image: Artist's impression of eclipsing binary, credit ESO/L. Calçada
This product is available to BAA members at a discounted price. To claim this discount you must be logged into the website and have entered a valid BAA membership number in your account details. Log in or join the BAA today to qualify.
BAA member price: £6.00
Standard price: £7.50
---
We process and/or ship all orders within 28 days of receipt, except where explicitly indicated otherwise. All prices listed on the BAA website include VAT where applicable but exclude P&P. A small charge for this may be added at the checkout according to your order's weight and destination. For more information please see our terms and conditions.