Transit of Mercury 2016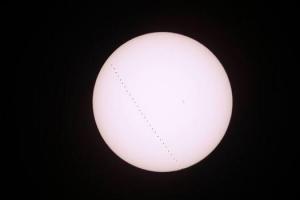 About this observation
Time of observation
09/05/2016 - 12:12
Observing location
Nottingham
Equipment
Skywatcher ED80
Canon 6D
AZEQ6
Baader solar film

Like This Image
Share
This image shows the position of Mercury about every 15 minutes starting at the bottom right; note the large sun spot complex near the mid-point of the Sun. Cloud prevented me from getting a complete transit unfortunately.
Copyright of all images and other observations submitted to the BAA remains with the owner of the work. Reproduction of the work by third-parties is expressly forbidden without the consent of the copyright holder. For more information, please
contact the webmaster
.