Charts:
Charts taken from AAVSO Chart Plotter.
V339 Del (Nova Delphini 2013)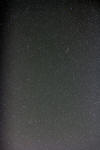 A single 1 min exposure with a 100mm, f/2 lens taken at 21:13 from Chelmsford, Essex. The Nova has been marked with lines. Nick James
Low resolution spectrum taken with a staranalyser diffraction grating. Aug 16 2013 David Boyd
1 degree direct 1 degree inverted 1 degree reversed

Aug 14.926UT. Denis Buczynski

Spectrum taken on Aug 20 Mike Harlow
---
R~1000 resolution spectrum of Nova Del taken 5th Sept, with a C11 + LISA spectrograph and processed with ISIS. The prominent peaks are the Hydrogen Balmer emission lines.
David Boyd
Spectrum taken with a 12 degree objective prism on a 30cm F4 Astrograph. September 6th
Mike Harlow