---
Recurrent Objects Programme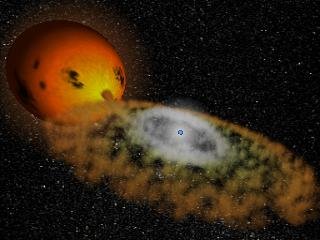 Courtesy Dr. Andrew Beardmore, University of Leicester
---
The Recurrent Objects Programme was initially set up by Guy Hurst of 'The Astronomer' organisation in the 1980's specifically to monitor poorly studied eruptive stars of various types, where outbursts generally occur at periods greater than one year, and/or where few or no observations of the object had been secured. Many of the objects on the programme have no known period, and details of maximum and minimum brightness are rather uncertain. I took over as co-ordinator of the ROP in 1990, and integrated it into the BAAVSS Main Programme in 1995, during my time as Director of the BAA Variable Star Section.
The main aims of the programme are...
To monitor for outbursts or unusual behaviour either visually or with CCD's, in order to determine an outburst cycle, and with the help of CCD photometry, the orbital period.
To obtain high quality photometry during outburst.
To raise the profile of the objects on the programme in order that greater observational coverage will be obtained.
To provide Professional astronomers with much needed data on these stars.
At present there are 81 objects on the programme (see below). Most are Dwarf Novae, but several Novae have been included where more than one outburst has been detected, or is suspected of being recurrent from professional literature. Other interesting NL objects appear too!
The latest and most up to date charts and sequences should be used whenever possible. These are available from the AAVSO web site, or for charts in the BAAVSS format, contact the BAAVSS chart secretary John Toone for details.
Visual observers may wish to telephone me for confirmation of outburst detections for objects on the ROP, and my telephone number is available throughout the night for such alerts. Please send me an e-mail stating your interest in the ROP, and I will be happy to mail you my number. Alternatively it can be found on the back cover of the VSS Circulars. CCD observers are encouraged to post their outburst details to the BAAVSS-ALERT group as soon as possible.
If the star name is highlighted, click to see a light curve.
If the RA is highlighted, click to get the BAAVSS chart.
Last update September 15th 2016 Drop V725 Aql, EI Psc, V701 Tau. Add ASASSN-15po, ASASSN-15ax, ASASSN-14jv, V529 Dra & PNV J17292916+0054043
| | | | | |
| --- | --- | --- | --- | --- |
| STAR | RA 2000.0 | Dec 2000.0 | Range | Type |
| V402 And | 00 11 07 | +30.33 | 15.5B-<17.8 | UGSU |
| LS And | 00 32 10 | +41.58 | 11.7p-20.5p | NA |
| ASASSN-15po | 00 36 36 | +21 51 | 13.7-21.5V | UGWZ |
| LL And | 00 41 51 | +26 37 | 13.0-<17.0 | UGSU |
| XY Psc | 01 10 11 | +03 33 | 13.0-<20.0 | UG: |
| WX Cet | 01 17 04 | -17 56 | 9.5-18.5 | UGSU |
| UW Per | 02 12 30 | +57 05 | 13.5-18.8p? | UG? |
| PQ And | 02 29 29 | +40 03 | 10.1-19.0V | UGSU |
| NSV 895 | 02 42 16 | +43 21 | 11.7-<20.0p | UG? |
| UW Tri | 02 45 17 | +33 31 | 14.7-<21.0p | UGSU |
| V336 Per | 03 22 53 | +41 37 | 14.3p-<20.0p | UG |
| SV Ari | 03 25 03 | +19 50 | 12.0-22.0p | N: |
| V518 Per | 04 21 43 | +32 54 | 12.0-<20.0B | XN |
| V650 Ori | 05 31 08 | +09 45 | 15.5p-<17.5p | UGWZ: |
| V2828 Ori | 06 19 59 | +19 26 59 | 12.76C- | UGSU |
| V616 Mon | 06 22 45 | -00 20 | 11.2-20.2B | XND |
| CI Gem | 06 30 06 | +22 19 | 14.7-18.5p | UGSU:/UGSS: |
| CG CMa | 07 04 05 | -23 46 | 13.7-<15.7p | UGWZ: |
| V654 Aur | 07 29 10 | +36 59 | ? | NL |
| SDSS J074716.81+424849.0 | 07 47 16 | +42 49 | ? | NL |
| EZ Lyn | 08 04 34.2 | +51 03 49.2 | 12.0-18.0V | UGWZ: |
| FH Lyn | 08 13 21.0 | +45 28 09.4 | ? - 18.3 | UG |
| SDSS J081610.84+453010.2 | 08 16 10.8 | +45 30 10.2 | ? - 20.0 | UGSS |
| EG Cnc | 08 43 04 | +27 52 | 11.9-17.0V | UGWZ |
| T Pyx | 09 04 41 | -32 23 | 7.0-15.8B | NR |
| SDSS J093249.57+472523.0 | 09 32 50 | +47 25 23 | 14.9-19.0CV | UGSU+E |
| HM Leo (NSV 18241) | 09 38 37 | +07 14 55 | 12.9-16.8V | UG: |
| U Leo | 10 24 03 | +14 00 | 10.5-<15.5v | N: |
| SS LMi | 10 34 06 | +31 08 | 15.0-<21.0p | UG or N |
| SDSS J103533.02+055158.3 | 10 35 33.03 | +05 51 58.4 | ? | UGWZ:+E |
| SDSS J112619.45+084650.8 | 11 26 20 | +08 46 51 | 14.7-21.1CV | UGSU |
| RZ Leo | 11 37 16 | +01 49 | 10.5-17.5p | UGSU |
| AL Com | 12 32 26 | +14 21 | 13.0-20.0p | UGSU |
| IR Com | 12 39 32 | +21 08 06 | 13.5-18.7V | UGSU+E |
| HV Vir | 13 21 03 | +01 53 | 11.0-20.5B | UGWZ |
| UZ Boo | 14 44 01 | +22 01 | 11.5-<16.1v | UGSU |
| SDSS J150137.22+550123.4 | 15 01 37 | +55 01 23 | 14.6C-19.2V | UGSU+E |
| SDSS J150441.76+084752.6 (1502+09 Boo) | 15 04 41 | +08 48 | 13.7-19.1V | UG: |
| T CrB | 15 59 30 | +25 55 | 2.0-11.3p | NR |
| U Sco | 16 22 31 | -17 53 | 8.8-19.0p | NR |
| V592 Her | 16 30 58 | +21 17 | 12.3-<22.0p | UGSU: |
| FBS1719+834 | 17 13 13 | +83 19 | 14.0-<20.0B | UG: |
| FSVJ1722+2723 | 17 22 42 | +27 23 | ?-21.0V | UGWZ: |
| SDSS J172929.47+005404.3 | 17 29 30 | +00 54 | 12.4-21.4V | UGWZ |
| FBS1735+825 | 17 29 34 | +82 26 | 14.0-<20.0B | UG: |
| ASASSN-15ax | 17 30 25 | +45 17 | 13.8-21.5V | UGWZ |
| V2487 Oph | 17 31 59.8 | -19 13 56.0 | 9.5-17.7p | NR |
| V2110 Oph | 17 43 44 | -22 46 | 12.0-22.0V | NC |
| V1172 Sgr | 17 50 02 | -20 41 | 9.0-18.0p | N: |
| RS Oph | 17 50 13 | -06 43 | 4.3-12.5V | NR |
| V745 Sco | 17 55 18 | -33 14 | 9.9-21.0 | NR |
| DV Dra | 18 17 25 | +50 48 | 15.0B-21.0B | UGSU: |
| Lanning 17 | 18 23 00 | -04 37 | 15.0-20.0p | NL: |
| V2204 Oph | 18 26 02 | +11 55 | 13.7-16.8B | NL: ZAND: |
| V1017 Sgr | 18 32 04 | -29 23 | 6.2-14.8B | ZAND: |
| V3645 Sgr | 18 35 50 | -18 42 | 12.6-18.0p | NR: |
| V1108 Her | 18 39 26.20 | +26 04 10.0 | 12.0-17.1V | UGWZ: |
| V529 Dra | 18 42 28 | +48 37 | 12.0-20.6V | UGWZ |
| NSV 24587 | 18 46 41 | -04 57 | 8.0v-? | N: |
| CI Aql | 18 52 04 | -01 28 | 8.7v<16.0v | NR |
| HR Lyr | 18 53 25 | +29 14 | 6.5-15.8v | NR: |
| ASASSN-14jv | 18 53 28 | +42 04 | 11.3-19.3V | UGWZ |
| EU Sct | 18 56 13 | -04 13 | 8.4-18.0p | NR: |
| FS Sct | 18 58 17 | -05 24 | 10.1-18.0p | NR: |
| V358 Lyr | 18 59 34 | +42 24 | 16.0p-<20.0p | UGSU: |
| V2176 Cyg | 19 27 02 | +54 18 | 13.3v-19.0R | UGSU |
| KX Aql | 19 33 53 | +14 18 | 12.5p18.4V | UGSU: |
| V2491 Cyg | 19 43 02 | +32 19 13 | 7.5-20.0V | NR: |
| V1454 Cyg | 19 53 39 | +35 22 | 13.9-<17.0p | UGSS |
| V1363 Cyg | 20 06 12 | +33 43 | 13.0-<17.6 | VY: |
| WZ Sge | 20 07 36 | +17 42 | 7.0-15.5v | UGWZ |
| V404 Cyg | 20 24 04 | +33 52 | 11.0-20.5B | N |
| VY Aqr | 21 12 09 | -08 50 | 8.4-17.2p | UGSU |
| V627 Peg | 21 38 07 | +26 19 57 | 8.4C-<20.0p | UGWZ |
| V1251 Cyg | 21 40 52 | +48 40 | 12.5-<16.0v | UGSU |
| NSV 25747 | 21 42 18 | +31 34 | 12.8- ? | UG: |
| PNV J21581852+2419246 | 21 58 19 | +24 19 24 | 14.1-19.8CR | UGSU |
| AY Lac | 22 22 23 | +50 23 9 | 14.0V-<21.0B | NR or UGWZ |
| NSV 25966 | 22 50 39 | +63 29 | ? | ? |
| SDSS J230351.64+010651.0 | 23 03 51 | +01 07 | ? | UG: |
| V630 Cas | 23 48 53 | +51 28 | 12.3-17.1p | UG: |
---