Last updated 2015 January 25

Welcome to the website of the
Asteroids and Remote Planets Section

of the

 British Astronomical Association

The aim of the Section is to offer something of interest to active, virtual and armchair observers, e.g.; visual telescopic observing, imaging using your own equipment (photographic, CCD, webcam), remote observing, working with on-line resources, orbital studies, the impact hazard, the history of  discovery and observation, as well as keeping up-to-date on the findings of the latest space missions to these minor bodies. Please report your observations of asteroids to the ARPS Director at the following e-mail address: [email protected]

Thank you

Richard Miles

Director

Latest News
1. The close approach of asteroid 2004 BL86 on 2015 January 26-27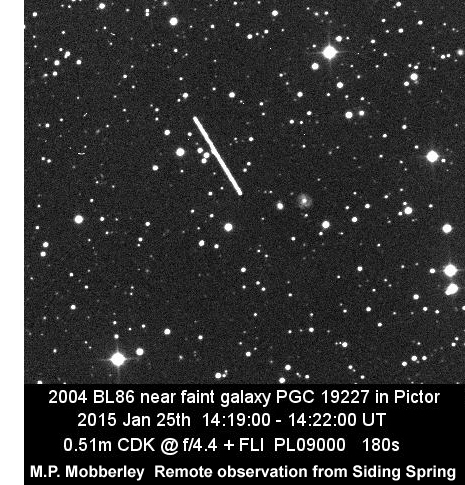 On the night of January 26/27, asteroid 2004 BL86 (also designated asteroid 357439) will make a close pass of the Earth becoming, for a short time, the brightest natural near-Earth object (NEO) that we know of (other than the Moon) over the next 12 years. Its orbit is such that the object will be very favourably placed for observation, especially for observers based in the UK.
BACKGROUND:
This potentially hazardous asteroid (PHA) is quite large (0.4-1.0 km across) and so will appear as bright as 9th magnitude when it passes the Earth at the safe distance of 1.2 million kilometres. Although it orbits the Sun every 1.84 years ranging between 0.90 AU and 2.11 AU, the forthcoming event marks its closest geocentric approach for several centuries when it will pass almost 3 lunar-distances away on January 26 at 16:20 UT. This close approach is especially unusual (for a PHA) in that it will continue to brighten by more than a factor of 2 after closest approach as it moves towards opposition, reaching the remarkably low phase angle of 1.1 degrees, and attaining a V magnitude of 9.0 on Tuesday, January 27 between 03:40-05:10 UT, during which time interval its apparent speed wil have slowed to ~2"/sec. Please note that its visibility as seen from Europe and North America is very favourable, and so you will not have to wait up until the early hours to spot it since (seen from the UK) the 9th magnitude object will rise and become readily visible soon after 19:00 UT. Its motion will be very obvious as seen through a small telescope (10-cm aperture or larger instrument) when it heads northwards leaving the constellation of Hydra and entering Cancer at around 23:10 UT on the 26th.
CHARTS:
Charts showing the object's track across the sky for the night of January 26/27 (UK-based observers) has been prepared by Steve Harvey of our Computing Section. For Jan 26.5-27.0, the chart is at:
http://britastro.org/computing/ch/357439_2004_BL86_2015Jan26Jan26.html
Likewise for Jan 27.0-27.5, Steve's chart is here:
http://britastro.org/computing/ch/357439_2004_BL86_2015Jan27Jan27.html
OBSERVING HINTS:
At its brightest, 12x50 binoculars or larger should reveal the interloper as it slowly migrates across the field of view. Between about 05:05-05:45 UT on the 27th, the asteroid happens to glide past the western (following) edge of the Beehive star cluster (Messier 44) as seen from southern England. Parallax will significantly affect its apparent position as seen by observers elsewhere. So if you wish to obtain exact celestial coordinates for your location, these can be downloaded from the Minor Planet & Comet Ephemeris Service:
http://www.minorplanetcenter.net/iau/MPEph/MPEph.html
You will need to enter your latitude and longitude (or observatory code - in uppercase - at or near your location) using the online form together with the time (in UT) when you are planning to observe. Using large telescopes with small fields of view, you might consider pointing the scope at a point in the sky where the asteroid is due to pass say 5 or 10 minutes later. You will hen be able to monitor teh object coming into view and traversing your field before disappearing at teh opposite edge of the frame.
REPORTING:
Updates as to the nature of this object, together with observations by members, will be posted on this homepage. Watch out for brightness fluctuations as it spins on its axis: that's if 2004 BL86 turns out to be rather elongated in shape, or indeed if it happens to be a binary system. It is also worth observing with different filters to see whether its colour changes as it spins, or even spectroscopically to classify its type. Astrometry made from observatories assigned an IAU code should be reported to the Minor Planet Center in the usual way. Images and photometry will be collated by myself as section director - arps [at] britastro.org
Here's
2. First positive asteroid occultation event of 2015 posted by John Talbot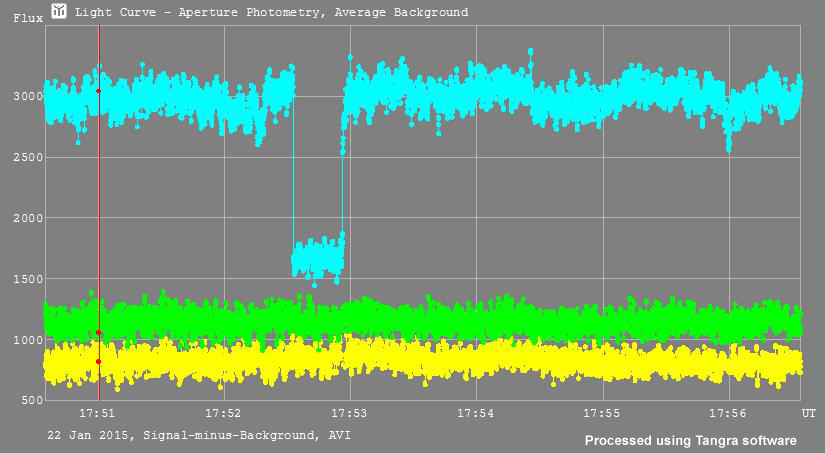 Asteroid (81) Terpsichore occulted TYC 2398-01289-1 on evening of January 22/23
UK observer John Talbot based in Abingdon has recorded a 23.5-sec duration occultation using a Watec 910HX video camera and 30-cm f/4 Newtonian telescope. This was John's 6th positive result and astonishingly it came after a run of 56 consecutive negative observations. This must be some sort of record and demonstrates John Talbot's dedication in monitoring all possible asteroid occultation events from his location, including small asteroids which have a much lower probability of success. John reports that "the path shifted considerably to the west to lie right over the UK but patchy conditions meant that some UK observers were clouded out. The event occurred about 50s before the predicted time but within the specified error."
3. Asteroid occultation on 2014 April 18 - SECOND UPDATE
Asteroid (241) Germania occulted 2UCAC 38779497
This 184-km diameter asteroid passed close to a 12th magnitude star in Gemini on Friday18 April 2014, at 2059 UT (2159 BST). The shadow track passed NW to SE over central UK and N Ireland. The maximum length of disappearance was predicted to be 8.5 seconds for someone in the centre of the shadow.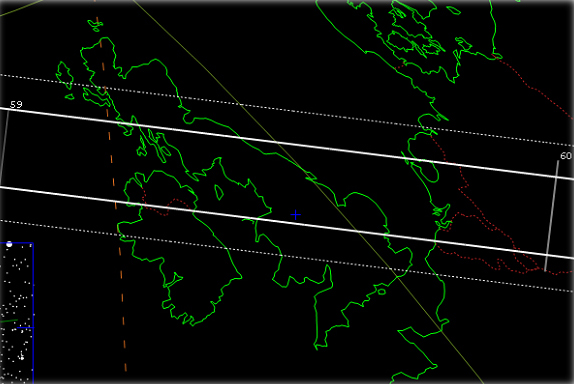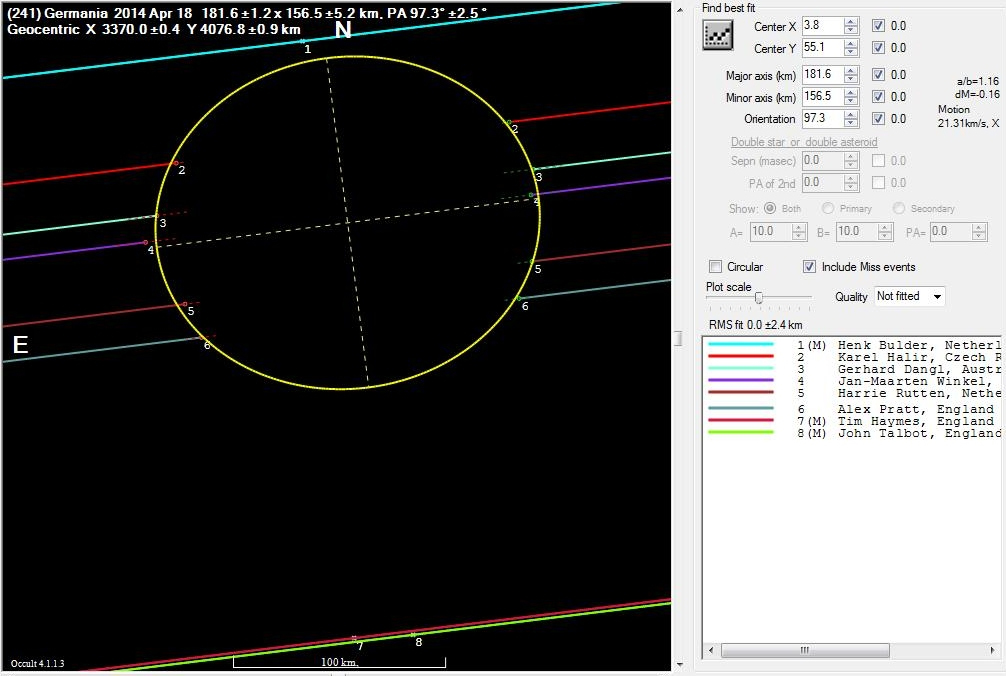 The star proved to be rather fainter than expected. Alex Pratt in Leeds successfully timed a 7.04 seconds occultation but both John Talbot and Tim Haymes in south-east England recorded misses. Today (August 2) an extra report was received from Karel Harir (CZ) in addition to 3 other observers in Europe (Harrie Rutten, J-M Winkel and Gerhard Dangl) who made accurate timings of the event. Alex Pratt has produced a new provisional profile of the object using Occult-4 software, as shown.
The calculated dimensions have been refined from these observations are 182+/-2 x 157+/-5 km which can be compared with previous results of 184 km, and there was a path shift of about 50km to the NE, with the occultation occurring about 9s earlier than predicted.
See also the Occultations page.
4. Video Astrometry - A new observing opportunity
Section member Alex Pratt is a keen occultation observer for which he uses an integrating Mintron video camera and GPS time-inserter to record asteroidal and lunar occultations of stars. Recently he used his observing equipment to record the passage of some fast-moving asteroids, notably 1998 QE2 and 2012 DA14. Exposure times as short as 0.04 sec per frame can be employed yet, using relatively wide-field optics, several field stars were recorded in addition to the asteroids and so it was possible to measure the astrometric positions of the movers with high precision thanks to the very accurate time stamp on each frame. What made all the difference was the availability of the software TANGRA 1.4 written by Hristo Pavlov with which it is possible to analyse the frames for both astrometry and photometry.
Thankfully, Alex has compiled A Guide to Video Astrometry for anyone wishing to try using a video camera for measuring the positions of very fast-moving objects (VFMOs). This 2.2 Mb PDF is a nice step-by-step 'How-To' guide which sets out all aspects of the process involved and includes relevant weblinks. His results proved good to an accuracy of about 0.2 arcseconds even for an object moving at a rate of some 10 arcsec per second of time! He even used the equipment to measure the positions of some main-belt asteroids, which after submitting these to the Minor Planet Center enabled him to receive his own IAU Observatory Code (Z92). Great work, Alex!
5. Section Observing Programme
I am currently looking at the Observing Programme of the section with a view to relaunching a range of options for members: from visual observational approaches to more advanced topics based on CCD imaging. If you have any suggestions or ideas then do please get in touch - I'd love to hear from you. Once this has been completed, I shall set up a new webpage. On May 29, I gave a talk at the Ordinary Meeting of the Association held at Burlington House, Piccadilly, London, entitled "The Observing Programme of the Asteroids and Remote Planets Section". You can listen to the talk and view the presentation thanks to my colleague, Nick James who has uploaded an audio recording in MP3 format and slides in JPEG format to the BAA website. The files are in Zipped format and can be downloaded from here (you'll need to login as a BAA member to access this):

http://britastro.org/baa/index.php?option=com_content&view=section&layout=blog&id=16&Itemid=196

6. February 15: Record close approach of near-Earth asteroid 2012 DA14
A gallery comprising all observing reports received to date can be reached via the following thumbnail: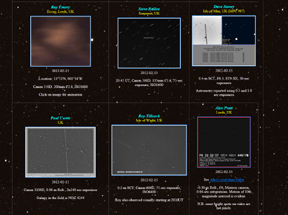 The following UK-based observers have obtained images, submitted reports, videos, etc.:
Peter Birtwhistle, Damian Peach, Nick Quinn, Richard Fleet, Ian Sharp and David Briggs from southern England, Peter Carson from Essex, Martin Willock from York, Steve Johnston in central England (visual, remarking on its orangish hue), Jay Tate from Spaceguard UK, mid-Wales, Dave Storey from Isle of Man, Roy Tillcock from Isle of Wight, David Strange and Steve Bullen from south-west England, Robin Leadbeater (who also obtained a spectrum of the object!), Ray Emery and Alex Pratt from northern England, Denis Buczynski from Scotland, and Kieran Rooney from N. Ireland. Also animation courtesy of Bill Ward available.
ARPS member Vagelis Tsamis observing from near Athens, Greece sent this exciting written report of his experiences. John Tipping also imaged 2012 DA14 whilst in the Algarve, Portugal.
Many observers at the Norman Lockyer Observatory and the Hampshire Astronomical Group at Clanfield succeeded in seeing it visually. You can also connect to the observations which have already been posted on the Web by clicking on the name of the observer indicated in blue font above.
Unlike the bolide seen and felt in the Urals earlier the same day, the dramatic passage of near-Earth asteroid 2012 DA14 had been forecast one year in advance thanks to it having been discovered last February by amateur astronomers at the La Sagra Sky Survey in Spain (MPC Code J75).
Reaching 7th magnitude, it is the brightest-ever NEO to be observed approaching the vicinity of our planet (<0.1 AU) and visible with modest telescopic aid, e.g. binoculars. 2012 DA14 passed about 14x closer to the Earth than our companion Moon. To put this in perspective, scientists at NASA's Near-Earth Object Program Office in Pasadena, California estimate that an asteroid the size of 2012 DA14 flies this close every 40 years on average and that one will impact Earth, on average, about once in every 1,200 years!
Nick James and Dominic Ford had organised and undertaken a live webcast of the 2012 DA14 close-approach, by periodically updating live images from a small telescope with a field of view of around 1 degree. Unfortunately cloudy skies have dogged the attempt with just the occasional star or two being visible from time to time. The animation generally showed only passing clouds. This new facility should however prove useful as the BAA should now be able to furnish live webcasts of interesting celestial events in the future.
A challenge for observers was suggested:- that was to pick a site where you have a low eastern horizon and try and image the fast-mover as soon as possible after it rises. The further east your location the better chance you would have had. There'll be a prize for anyone observing from the UK who records the earliest image of 2012 DA14 !
WINNER: is David Briggs who secured his first image using the 24" telescope of the Hampshire Astronomical Group at 20:05 UT when the asteroid was just 8 degrees above the horizon.
7. Joint Asteroid-Comet Section Meeting 2012 October 6
We held this very successful joint meeting with the BAA Comet Section on 2012 October 6 at the Open University, Milton Keynes, UK.

The Meeting Report is now available which includes links to seven of the presentations.

Nick James has kindly provided mp3 sound and jpeg copies of the slides shown by each speaker on the day in the form of zipped files available here.

The speakers outside the Berrill Building at the Open University
(photo: David Briggs)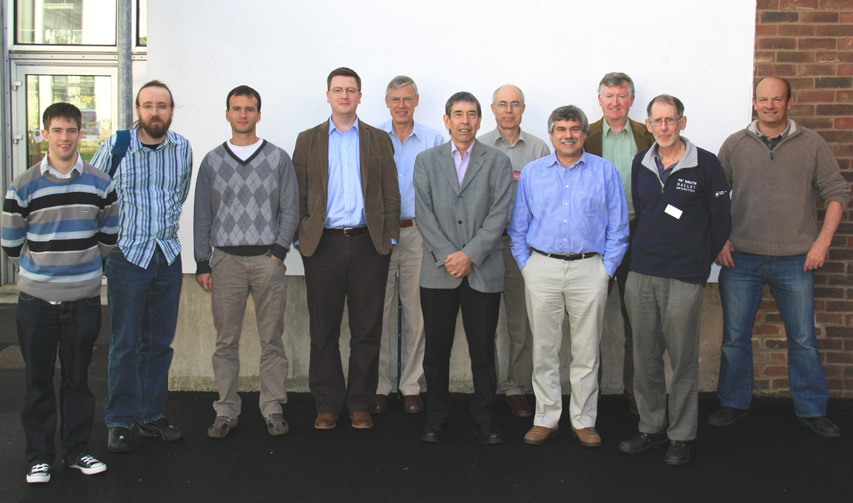 (left to right: S. Duddy, G. Williams, L. Buzzi, S. Lowry, G. Relf, R. Dymock, R. Miles, S. Green, E. Ansbro, J. Shanklin and N. James
7. News Archive
The News archive can be accessed here
The Site Guide may help you to find your way around the site, along with the Table of Contents .
The What to observe page lists many different aspects of observing and imaging together with current projects as well as ephemerides and other useful information from the current 2014 Handbook of the BAA.
Footnote:
[A four-disk DVD set of the outstanding meeting 'Developments in Amateur Astronomy', held in honour of Sir Patrick Moore, can be purchased via the BAA website - £14 for members and £18 for non-members. The disks include professionally filmed and edited coverage of all the presentations including a talk by the Section Director on 'Asteroids and Comets' as well as extensive additional material including an exclusive interview with Patrick at his home in Selsey. ]