Art for Dark Skies
Two talented artists are supporting the Commission for Dark Skies. They are allowing artworks to be hired out to raise funds for our cause.

If you would like any of the paintings below to adorn your walls (for £20/$25/€25 per month), for a period to be agreed, please contact us via our Enquiries page. We pay delivery and packaging, you pay return and packaging.

---

Night Thoughts
Cosmic-inspired forms and imagination merge to create a window into the experience of the macrocosm.
Framed limited-edition print, frame 74 cm x 73 cm. This wonderful painting is new to our collection.
Kathryn Thomas, Poole, Dorset.

---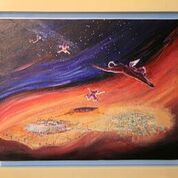 In Your Dreams
A dreamlike depiction of the human experience of the environment of an overlit Earth.
Framed original, frame 76 cm x 61 cm.
This painting has crossed the Atlantic twice!
Christine Wakelin, Eye, Peterborough.

---

Euler's World
A fantastical dreamscape celebrating the work of pioneering Swiss mathematician and physicist Leonhard Paul Euler (1707–1783). This painting has been much admired. Can you spot Euler's chair and telescope?
Framed original, frame 88 cm x 74 cm.
Christine Wakelin, Eye, Peterborough.

---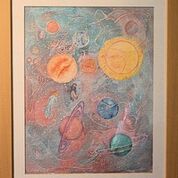 Caroline and William Herschel
Saluting the pioneering work of the Herschels, discoverers and recorders of many a comet, nebula, galaxy and, in 1781, the planet Uranus.This painting has been in the home of a Herschel historian and biographer.
Framed original watercolour, frame 66 cm x 48 cm.
Christine Wakelin, Eye, Peterborough.

---