2013 October 10
Juno's close approach to the Earth
As noted in BAA e-bulletin 765 the Juno spacecraft flew within 560km of the Earth's surface last night on its way to Jupiter. It was imaged by a number of observers including Peter Birtwhistle and Nick James: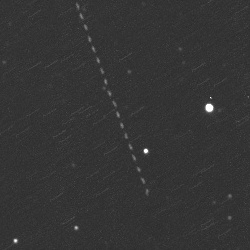 More images are available here: http://www.nickdjames.com/20131009%20Juno%20Flyby/
Astrometry from these images was processed by Bill Gray and this shows that the spacecraft is safely on its way to Jupiter: http://www.projectpluto.com/temp/juno.htm
Much more detailed radio tracking data was obtained by the Deep Space tracking stations of NASA and ESA.
The British Astronomical Association supports amateur astronomers around the UK and the rest of the world. Find out more about the BAA or join us.