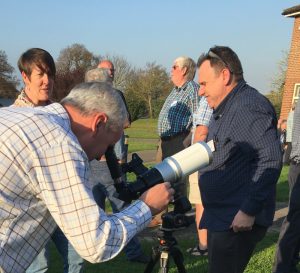 The BAA's Office is located in Burlington House, on Piccadilly in central London. Our postal address is:
The British Astronomical Association
Burlington House
Piccadilly
London
W1J 0DU
UK
Telephone: 0207 734 4145 (staffed 9am to 5pm, Mon-Fri)
Fax: 0207 439 4629
You can also contact us using our online web form.
The Board of Trustees
The Board of Trustees is responsible for the financial and administrative affairs of the Association. It comprises the following:
Vice President

Alan Lorrain

Business Secretary

Bill Tarver
The Council
The BAA's Council is a larger body which organises the scientific and public activities of the Association. It comprises the Association's Trustees, Section Directors, post holders, and the following elected members:
Marie-Louise Archer and Alexandra Hart.
Section Directors
Lunar

Dr Tony Cook (Acting Director)

Mercury and Venus

Dr Paul G. Abel

Asteroids and Remote Planets

Dr Richard Miles

Saturn, Uranus and Neptune

Mike Foulkes

Aurora and Noctilucent Cloud

Sandra Brantingham

Variable Star

Jeremy Shears

Equipment and Techniques

David Arditti

Radio Astronomy

Paul Hearn
Other officers
Papers Secretary

Dr Jeremy Shears

Meetings Secretary

Hazel Collett

Journal Editor

Philip Jennings

Public Relations Officer

Dr John Mason

Archivists

John Chuter, Dr Richard McKim

Commission for Dark Skies

Bob Mizon

UK Nova/Supernova Patrol

Guy Hurst

Membership Coordinator

Peter Carson

Sales and Promotion Coordinator

Ann Davies

Events Coordinator

Janice McClean