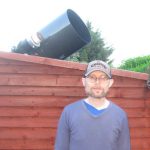 This is the Section of the BAA for advice and discussion on telescopes, mounts, observatories, cameras, pencils, clocks, torches, eyepieces, spectroscopes, computers, wheels, wires, software, clothing... everything that we use and do in observational astronomy.
The Section has a committee of acknowledged experts on instrumental and practical matters relevant to the amateur astronomer, including telescope-making, optics, automation, remote control, and image acquisition and processing.
Our remit is to help all members, whatever their particular interests and level of expertise, from the beginner making their first studies of the sky with binoculars or a very small telescope to those who have better research-level observatories than most universities in their back gardens.
We publish regular articles on all aspects of equipment and observing techniques, and reviews of equipment, in the BAA Journal and we produce the Section publication, E&T News, to which many members contribute.
The Director and committee are always very happy to try to answer queries from members and the general public.
News
Section Pages
Section Officers
Director: David Arditti
Assistant Director: Gary Palmer
Equipment Advisor: Martin Lewis
Imaging Advisor: Tony Morris
Optics Advisor: Es Reid
Spectroscopy Database Manager & Advisor: Andrew Wilson
Historic Equipment Advisor: Patrick Lindfield
Videos