2022 September 6
E&T News Issue 4 published
The latest edition of the Newsletter of the Equipment & Techniques Section is out. Logged-in members may download the PDF here.
Contents
From the Director
A star-tracking drive for Dobsonian mounts
Using the Unistellar Equinox eVscope
Considering, planning and building an observatory
An improvement to the Cheshire eyepiece
The ASIAIR revolution
BAA videos
Comparing reults from an achromatic reflector and an ED glass one
Manual meridian flip procedures
Equipment for sale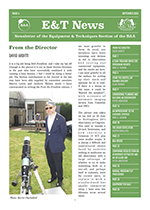 The British Astronomical Association supports amateur astronomers around the UK and the rest of the world. Find out more about the BAA or join us.