2014 December 15
Comet C/2014 Q2 Lovejoy
Observations reported by Australian comet observers now estimate this comet as being a naked eye object. It is travelling north and will be visible in our skies early in the New Year. The beautiful colour images that have been received show a bright green coma and a multi strand blue gas tail although these colours won't be visible to the eye. Wide field images taken on the 14th December show the tail to be as long as 5 degrees. Images submitted to the BAA Comet Section can be found in the archive here. The image here was taken by Rolando Ligustri on December 15th.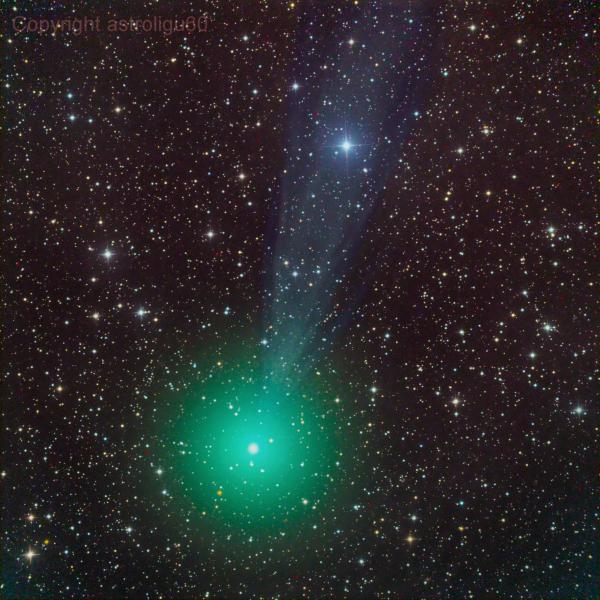 David Seargent a very experienced comet observer comments: "Also saw it on 14th. Much easier to see NE than 24 hours earlier and estimated as bright as 5.5! I don't think that I have ever seen a comet brighten so fast!"
The comet is currently too far south to see from the UK but it is moving north rapidly and by the end of the year it will be in Lepus, below Orion. In mid January it will be in Taurus so the scene may be set for us to view a naked eye comet in our winter skies.
Terry Lovejoy (the discoverer) seems to have a knack of discovering bright and beautiful comets! Long may he continue to do so.
Denis Buczynski, Secretary, Comet Section
The British Astronomical Association supports amateur astronomers around the UK and the rest of the world. Find out more about the BAA or join us.