2014 June 9
International Astronomy Show 2014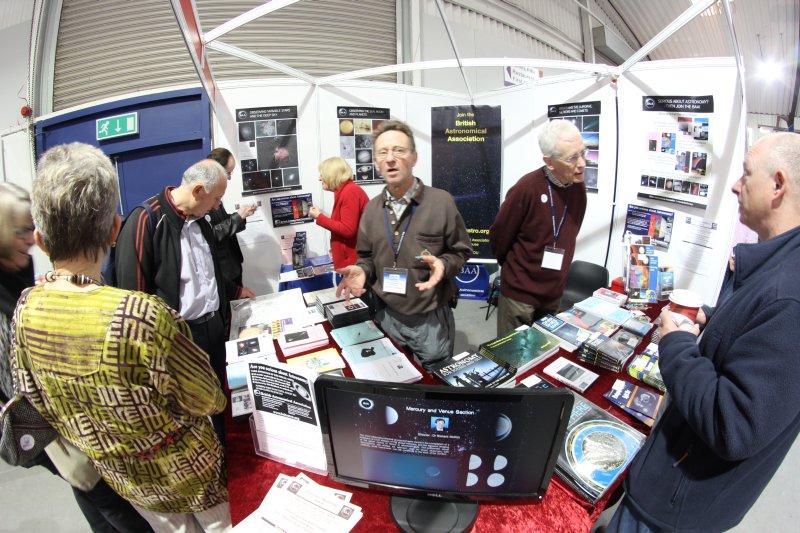 The 2nd International Astronomy Show was held last weekend (7th and 8th June), returning to the Warwickshire Exhibition Center near Leamington Spa.
The BAA again had a stand, and it was great to meet so many people interested in astronomy – beginners and more experienced, members and non-members, and a great many who decided to join up on the spot.
The IAS this year had more exhibitors with a terrific range of equipment on show, and some good bargains to be had. A large lecture marquee had been erected for the talks, which included Wil Gater, David Bryant, Nik Syzmanek, Nick Howes, Kevin Nelson (from QSI cameras), Mark Thompson, Pete Lawrence and Lucie Green.
A very warm welcome to new members who joined over the weekend.
And if you did not join on the day, and are still thinking about it, our special offer runs out at the end of June but you can quickly join up online now.
Much thanks goes to Ann Davies who organised the event for the BAA, and all those that helped out – Geoffrey Johnstone, David Boyd, Alan Lorrain, Callum Potter and Mike Frost.
Here are a few more pictures of the show:
The British Astronomical Association supports amateur astronomers around the UK and the rest of the world. Find out more about the BAA or join us.