2014 October 30
Supernova 2014dt in M61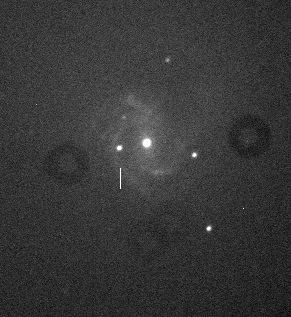 The Central Bureau for Astronomical Telegrams (CBAT) reports the discovery of a supernova at mag 13.6 in M61. The image to the right shows Koichi Itagaki's discovery image, taken from Yamagata, Japan. Observers using the remote iTelescope facility at Siding Spring, Australia, have since confirmed the supernova's presence.
M61 is a very challenging object to observe at this time of year. Lying in the constellation of Virgo, it rises not long before dawn and across most of the UK will not attain of altitude of more than 20° before sunrise. However, it may just about be accessible to those with extremely flat south-eastern horizons.
Further confirmation images are needed to monitor the supernova's behaviour in coming days, and should be sent to the Variable Star Section. For more information, see the news releases issued by the CBAT or AAVSO.
Update 3/11: This supernova has now received the designation 2014dt.
More information will be posted on the BAA website once we know more about this object.
Image credit: Koichi Itagaki, Yamagata, Japan.
The British Astronomical Association supports amateur astronomers around the UK and the rest of the world. Find out more about the BAA or join us.