2014 October 10
The International Space Station flying over the UK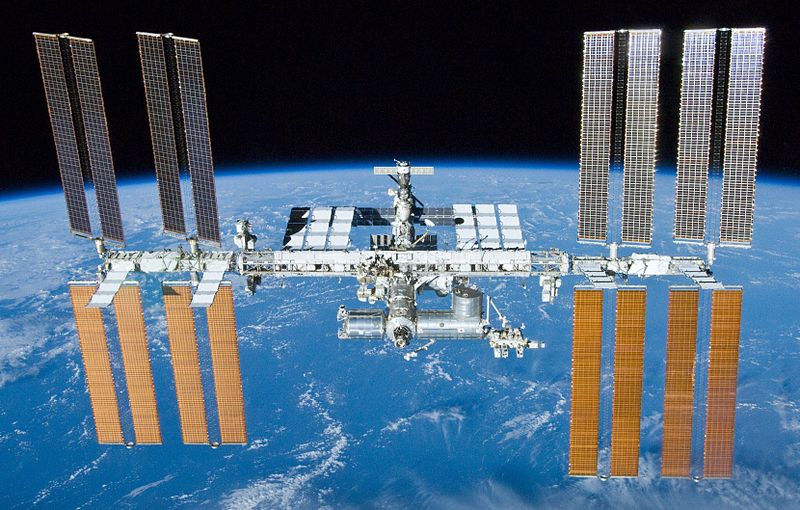 Tonight, the International Space Station will make the first of several incredibly bright appearances in the evening sky over the UK in October. It may appear even brighter than normal, since it has no fewer than four supply-craft currently docked to it – the maximum number that can visit at any one time.
It will appear as the second brightest object in the sky after the Moon, and take around two minutes to fly from your western horizon until it disappears overhead as it passes into the Earth's shadow and is no longer illuminated by the Sun. If you miss tonight's pass then don't worry – it will be visible on most evenings over the next couple of weeks.
The ISS is easiest to observe with the naked eye, appearing as a very bright moving point of light. Through binoculars its rectangular outline is just about apparent, but it moves so fast that it can be tricky to hold the binoculars steady – I have found that image-stabilised binoculars make this much easier, though they are relatively expensive.
The table below lists the provisional times when the ISS will be visible from London in coming days. These times may change by a minute or so nearer the time if the ISS performs powered manoeuvres to change its orbit. A more up-to-date list, updated daily, can be found here.
Click on any of the times listed below to open a planetarium view of each event.
The data above was taken from In-The-Sky.org.
The British Astronomical Association supports amateur astronomers around the UK and the rest of the world. Find out more about the BAA or join us.