2014 August 31
The Sir Patrick Moore Prize
The Sir Patrick Moore Prize is the most recently-instituted of the BAA's awards. It consists of £250 and a certificate.
The Prize is awarded for one or more of the following areas of activity, which reflect Sir Patrick's life and enthusiasms:
The encouragement of a public interest in astronomy
A contribution to the understanding of the history of astronomy
Outstanding observational work by a member or members under 21 years of age
The encouragement of participation in observational astronomy by youngsters
The carrying-out of a collaborative research project, whether between amateurs only, or also involving professional astronomers.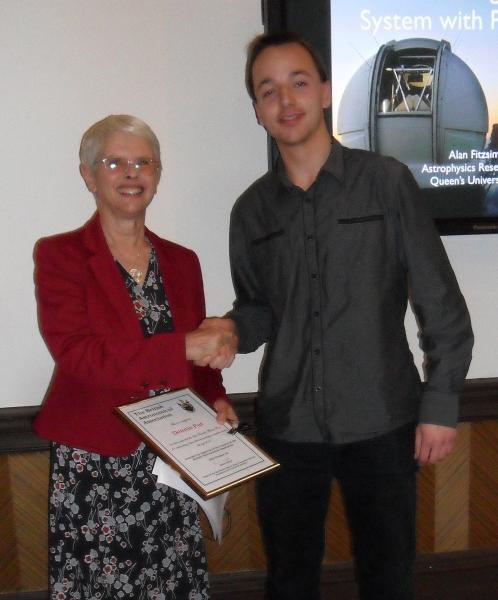 The first recipient of the prize, last year, was 20-year-old accomplished planetary imager Dennis Put, who has contributed significantly to the Mercury and Venus Section. He journeyed over from the Netherlands to receive his prize from the President at the December meeting.
To nominate somebody for the Prize (you may nominate yourself, but the nominee(s) must be a BAA member, more than one BAA member, or a BAA-affiliated society or school), please send their name(s) with a brief explanation of why you think they should be considered for the Prize to the Office, by 30 September.
~~ Nominations for this year's Prize have now closed, but you may like to start to think about possible recipients for next year's award ~~
The British Astronomical Association supports amateur astronomers around the UK and the rest of the world. Find out more about the BAA or join us.