2014 April 15
Total Lunar Eclipse
Unfortunately, the Total Lunar Eclipse of 2014 April 15 wasn't visible from the UK but it was widely seen from the western hemisphere. Damian Peach is currently in Barbados for the opposition of Mars but he took the opportunity to take this image using a 300mm lens. He comments that the eclipsed Moon was a very pretty sight alongside Mars and Spica and that the eclipse was quite dark.
The next Total Lunar Eclipse is on 2014 October 8 but that isn't visible from the UK either. Our next chance comes early in the morning on 2015 September 28 when the totally eclipsed Moon will be visible in Pisces, low in the southwest.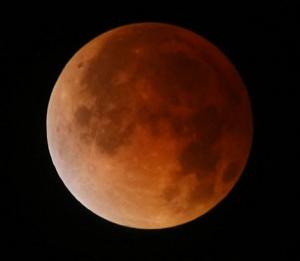 Damian's image of the 2014 April 15 TLE taken from Barbados using a 300mm FL lens.
The British Astronomical Association supports amateur astronomers around the UK and the rest of the world. Find out more about the BAA or join us.