2015 December 2
A glorious morning line-up on December 6
The planetary line-up in the morning sky continues to delight early risers – even if the weather doesn't always co-operate with those who struggle out of bed to see it. Jupiter now rises shortly after midnight and lies due south around 06:30 at an altitude (from London) of over 40 degrees. Shining at magnitude -2.0 and with an equatorial diameter of 36 arcsec it dominates the southern morning sky.
Further to the east an even brighter Venus (mag -4.2 and 69% phase) is 20 degrees up. Sandwiched between these 2 planetary beacons lies little Mars at magnitude +1.5 moving steadily on its way to opposition next May. Opposition occurs on May 22 and closest approach a few days later on May 30. At the moment Mars shows a disc diameter of 4.9 arcsec while at opposition it will be just over 18 arcsec. This is slightly greater than it was in 2014 (good news) but the planet will be lower in the sky than it was then (bad news).
It's always pleasing to see the planets strung out along the ecliptic and on the morning of December 6 (Sunday) they are joined by the waning crescent Moon just a couple of degrees below Mars (see chart below).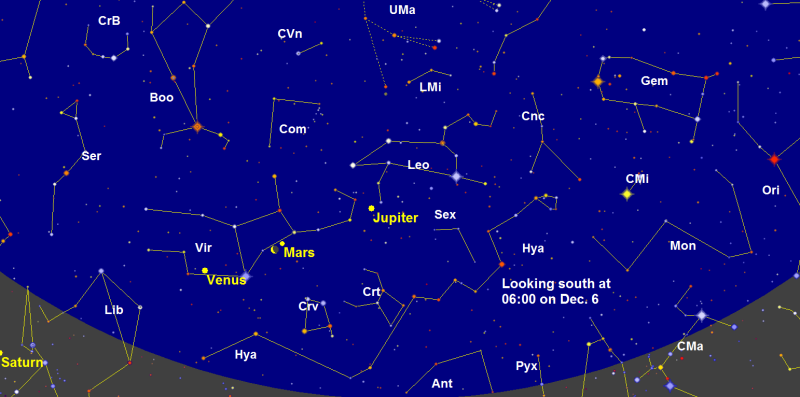 Also on this date around 06:30 Jupiter's 4 Galilean satellites will lie to the east of the planet. Io will be closest to Jupiter, so may be difficult to see without a telescope, but the others should be easily picked up in firmly held binoculars.
The British Astronomical Association supports amateur astronomers around the UK and the rest of the world. Find out more about the BAA or join us.