2015 February 12
BAA Solar Viewers for sale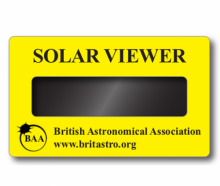 On March 20, Northern Europe will see its first total eclipse of the Sun since 1999.
There will be enormous public interest in viewing the eclipse, but looking at the Sun is dangerous and can result in serious eye damage or blindness.
To enable safe viewing of the eclipse, the BAA shop is offering solar viewers for sale. These provide a safe means for visual observation of the Sun with the un-aided eye, and will be ideal for viewing next month's eclipse.
We have been experiencing extremely high demand, so please order as soon as possible to avoid disappointment. We are currently taking 1-2 weeks to ship orders, but viewers should still arrive in plenty of time for the March 20 eclipse.

For more information about eclipse-viewing safety, please see our Solar Eclipse Safety Code.
Each viewer comes packed in its own sealed plastic bag with a copy of the solar eclipse safety code included. Users are advised to read the safety code before using the viewer.
They MUST NOT be used with a telescope or binoculars.
The British Astronomical Association supports amateur astronomers around the UK and the rest of the world. Find out more about the BAA or join us.