2016 June 13
Another well placed lunar occultation
The evening (well, night really) of Wednesday June 15 sees another easily observed lunar occultation, and one that can be enjoyed with nothing more sophisticated than small binoculars, when the waxing gibbous Moon (at a phase of 82%) hides the magnitude +4.2 star Kappa Virginis (also known a 98 Virginis).
The event starts at 22:19UTC (remember to add 1 hour for British Summer Time) when the star disappears at the Moon's dark limb and ends at around 23:38 UTC with Kappa re-appearing on the Moon's bright limb. The event takes place in the south west with the Moon at an altitude of 17 degrees. The chart below shows the position of the Moon and Kappa at 22:15UTC, shortly before the star disappears. From London the Moon will be setting at 01:15UTC.
Mars will lie 21 degrees to the east of the Moon (and at a similar altitude) and Saturn a similar distance east of Mars – neither, unfortunately, showing any detail in small binoculars.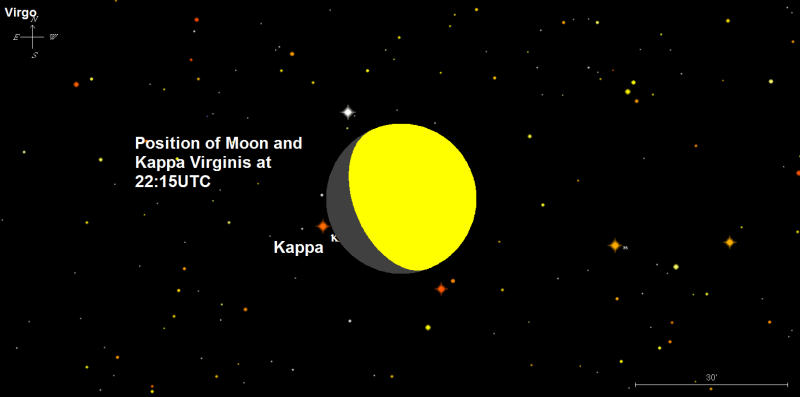 The British Astronomical Association supports amateur astronomers around the UK and the rest of the world. Find out more about the BAA or join us.