2017 January 6
A new astronomy publication: Nature Astronomy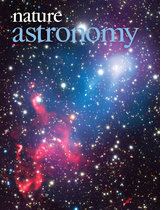 Members may be interested to know that the journal, Nature, ranked the world's most cited scientific journal, has just inaugurated a new online-only publication by the name of "Nature Astronomy".
Nature was founded by Norman Lockyer in 1869. He served as the editor for the first 50 years and it has remained at the forefront of natural-science publications ever since. The first issue published this month will be available for free for the next 12 months. It includes an article about water ice on the largest asteroid, Ceres, and has a very informative video entitled, "Water in the Shadows" on the subject of water ice on the Moon, Mercury as well as Ceres that is worth watching.
The British Astronomical Association supports amateur astronomers around the UK and the rest of the world. Find out more about the BAA or join us.