2017 September 12
A spectacular planetary display in the morning sky
Many amateurs enjoy activities such as patrolling for supernovae, observing variable stars or hunting down distant galaxies or nebulae. Occasionally though it is nice to forget about the science or the hunt and just enjoy being out under a naked eye sky, particularly when the solar system contrives to put on a special event for us.
On the morning of September 18 (a Monday) there is such an occasion when the Moon, along with Mercury, Mars and Venus make a dramatic line-up in the eastern sky. A brilliant Venus at magnitude -3.9 (disk diameter 11.6 arcsec, phase 88%) steals the show lying just a few degrees above a very thin waning crescent Moon, almost exactly 2 days from new. Magnitude 1.4 Regulus, the blue-white leading star of Leo, completes the display, lying just north-west of the Moon.
The SkyMap Pro chart here shows the position of the main players at 05:30 BST from the astronomical hub of Thorpe-le-Soken, Essex. A gibbous Mercury (mag –0.9, phase 71%, disk dia 6 arcsec) is just 4.5 degrees above the horizon at this time, while fainter Mars at mag 1.8 lies a degree to the west of Mercury.
Sunrise on this date is just over 1 hour later at 06:35 BST while civil twilight starts at 06:00 BST. Obviously the planets will rise higher in the sky as sunrise approaches so do take care if sweeping with binoculars or a telescope close to the horizon.
Mercury and Mars will actually be at their closest approach the previous day (Sunday Sept. 17) and at around 0.5 degree separation will make a stunning viewing and imaging opportunity. No doubt all this will ensure that we wake up to cloudy skies!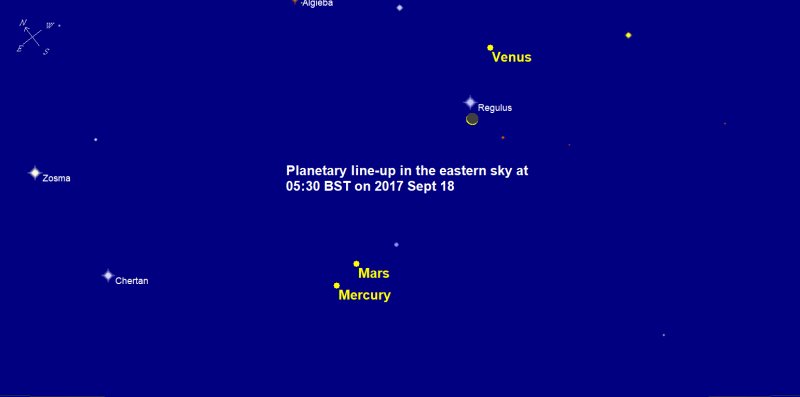 The British Astronomical Association supports amateur astronomers around the UK and the rest of the world. Find out more about the BAA or join us.