2018 September 22
A Guide to AstroImageJ Differential Photometry
This guide explains how to perform differential photometry of variable stars using AstroImageJ (AIJ) in combination with the BAA VSS Photometry software. It may be accessed by following this link to the pdf document, or from the Publications -> Downloads -> Tutorials area of the BAA website.
AstroImageJ (AIJ) is free open source photometry software, developed and maintained by researchers at the University of Louisville. The software authors describe AstroImageJ as
" .. streamlined for time-series differential photometry, light curve detrending and fitting, and light curve plotting, especially for applications requiring ultra-precise light curves (e.g., exoplanet transits)."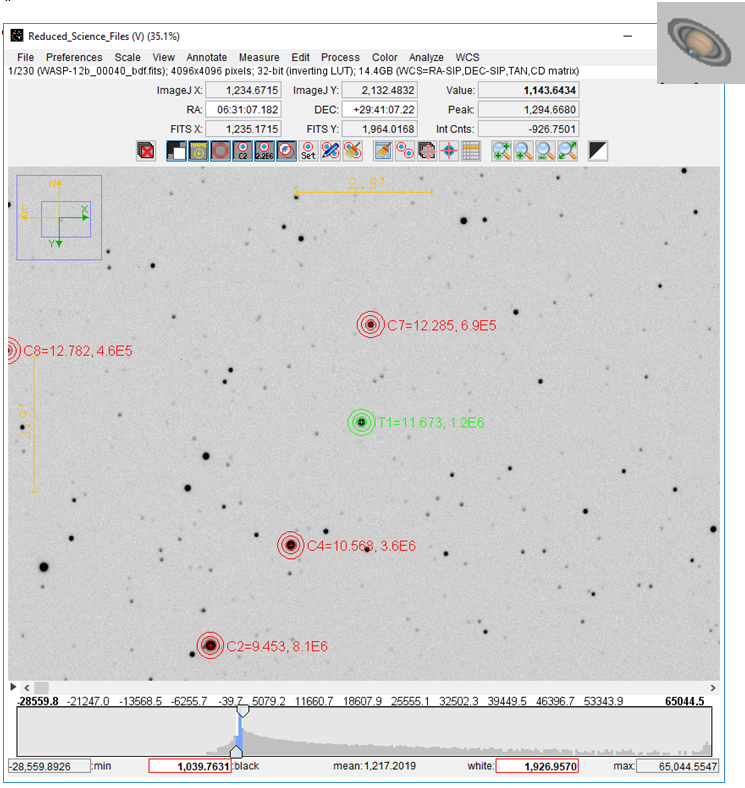 This guide covers image reduction and photometry processing in AIJ, then steps through the procedures for creating a BAA VSS Report file using the VSS Photometry spreadsheet. AIJ also includes advanced feature such as multi-plot, de-trending data and multivariate transit fit analysis.
As well as being free to download, there are sets of example data on the AIJ home page and other sites making it easy for newcomers to learn.
In addition to variable star photometry, AIJ is useful for:
Photometry of exoplanet transits,
Asteroid light curve photometry with the ability to create Minor Planet Center formatted data.
AstroImageJ software, example files and User Guide can be accessed through the AIJ Home page. Appendix E in A Guide to AstroImageJ Differential Photometry indicates the recommended Windows installation packages.
The BAA VSS Photometry Spreadsheet may be downloaded from the BAA VSS Data Submission webpage.
The British Astronomical Association supports amateur astronomers around the UK and the rest of the world. Find out more about the BAA or join us.