2019 September 15
Mercury and Venus Section Newsletter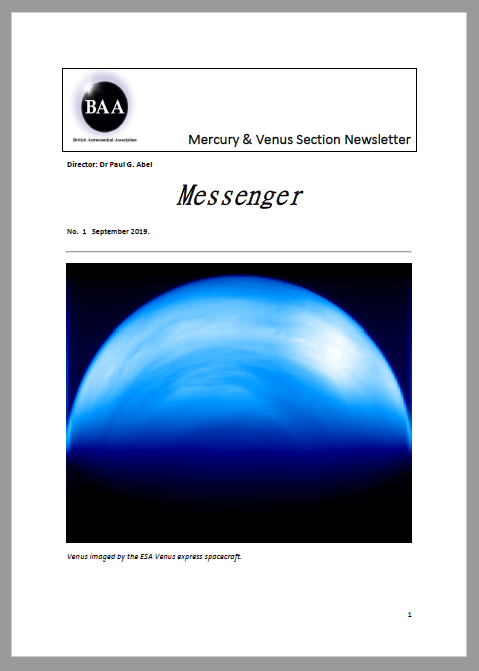 I'm pleased to announce the first issue of 'Messenger'- the official newsletter of the BAA Mercury and Venus Section!
I hope to make these newsletters on a semi-regular basis with two/three per Venus elongation. The main aim of the newsletter is to share news and observations communicated to the Section by BAA members. The newsletter will also include articles concerning methods and techniques useful for observing the inner planets.
I would like to thank our Mercury Coordinator Chris Hooker for his article on the transit of Mercury coming up in November and Australian observer Anthony Wesley for his article on imaging the nightside of Venus.
—–
Dr. Paul G. Abel,
Department of Physics & Astronomy,
University of Leicester,
University Road,
Leicester UK, LE1 7RH.
Director of the BAA Mercury and Venus Section
The British Astronomical Association supports amateur astronomers around the UK and the rest of the world. Find out more about the BAA or join us.