2020 June 12
Results of the CPRE Star Count 2020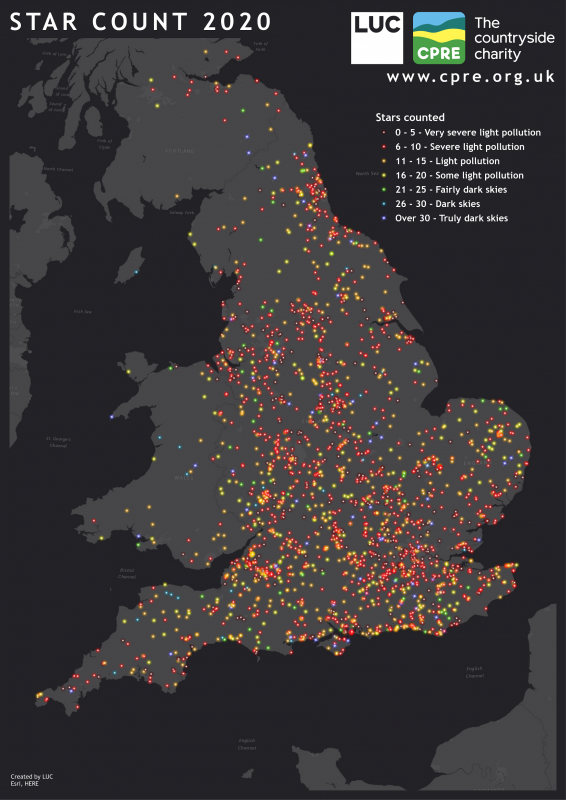 CPRE, the countryside charity, have published the results of their 2020 star count. Click here for their findings including an interactive map.
In 1993 members of the BAA Campaign for Dark Skies met representatives of CPRE (then the Council for the Protection of Rural England) at the London Planetarium to launch a joint light pollution leaflet called 'Blinded by the Light?'. Times change: the CfDS is now the Commission for Dark Skies and the CPRE became the CPRE, the countryside charity. Even the Planetarium is no longer a planetarium. However, one thing that has not changed is the close collaboration that has existed between the two organisations ever since. They have worked together on many ventures including conferences, publications and media briefings, and more recently on the annual Star Count. Using the stars of Orion as a light pollution meter, the CPRE has asked volunteers all over England to gauge the darkness of the night sky, while the CfDS has contributed with 'number-crunching', quotes in press releases, images and supporting text such as on the CPRE website.
The Star Count 2020 map used in this article was created by Chris Green, Principal GIS Consultant at Land Use Consultants. Chris said of the project:
"It was great to work with CPRE to create this map – as a keen astronomer myself it is always good to be able to help raise awareness of the importance of a dark night sky."
The British Astronomical Association supports amateur astronomers around the UK and the rest of the world. Find out more about the BAA or join us.