2020 October 10
Stars 44 Oph and λ Sqr in early evening lunar occultations, Oct. 20-21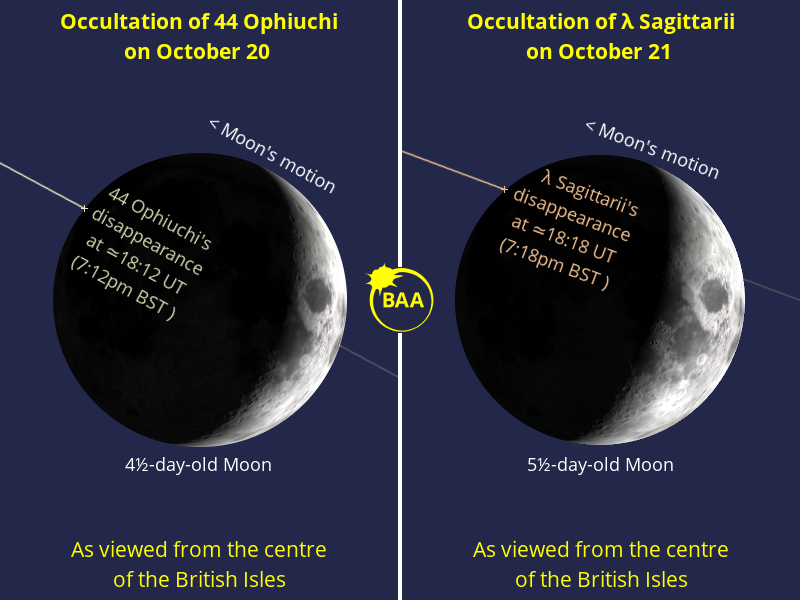 Magnitude +4.16 star 44 Ophiuchi, otherwise known as b Ophiuchi, lies 13 degrees east of Antares in Scorpius. The former is occulted at the dark limb of the 4½-day-old waxing crescent Moon between 18:06 and 18:18UT (7:06pm and 7:18pm BST) as seen from the British Isles on Tuesday, October 20. The occultation occurs when the Moon is about 6 degrees above the southwest horizon, so the reappearance of 44 Ophiuchi at the Moon's bright limb is unobservable from the U.K.
Fast forward 24 hours and the by now 5½-day-old Moon lies very close to magnitude +2.82 star Lambda (λ) Sagittarii, otherwise known as Kaus Borealis, the tip of the 'Teapot' asterism's 'lid' in Sagittarius. Depending on where you live in the British Isles, the star disappears at the dark lunar limb between 18:10 and 18:23UT (7:10pm and 7:23pm BST) on October 21.
Note that the Moon lies just 8 degrees high in the south-southwest at the disappearance of λ Sgr. If you have exceptionally clear skies, you might see the star's reappearance at the bright limb approximately one hour later, but the setting Moon will be very low in the southwest.
Location
Occultation disappearance
of 44 Oph, October 20 (UTC)
Occultation disappearance
of λ Sgr, October 21 (UTC)
Aberdeen
18h 09.9m
18h 17.1m
Armagh
18h 08.2m
18h 13.5m
Belfast
18h 08.7m
18h 14.3m
Birmingham
18h 14.7m
18h 19.6m
Cambridge
18h 16.9m
18h 21.8m
Cardiff
18h 14.2m
18h 18.5m
Carlisle
18h 11.4m
18h 17.4m
Cork
18h 08.1m
18h 11.9m
Douglas
18h 10.5m
18h 16.1m
Dublin
18h 09.4m
18h 14.3m
Edinburgh
18h 10.1m
18h 16.6m
Galway
18h 06.4m
18h 10.9m
Inverness
18h 07.7m
18h 14.9m
Kirkwall
18h 07.3m
18h 15.3m
Leeds
18h 13.7m
18h 19.3m
Lerwick
18h 07.6m
18h 16.1m
Liverpool
18h 12.8m
18h 18.0m
London
18h 17.3m
18h 21.9m
Newcastle
18h 12.5m
18h 18.7m
Norwich
18h 17.5m
18h 22.9m
Oban
18h 07.5m
18h 14.1m
Pembroke
18h 12.3m
18h 16.4m
Plymouth
18h 14.2m
18h 17.7m
Southampton
18h 16.7m
18h 20.8m
The British Astronomical Association supports amateur astronomers around the UK and the rest of the world. Find out more about the BAA or join us.