2021 May 19
BAA Observer's Challenge : Observing/Imaging Mercury May 2021

Hopefully you have been following the latest apparition in our evening skies of the innermost planet, Mercury. It is often considered a naked eye challenge, not because it is usually faint but because it is only seen in the morning or evening twilight.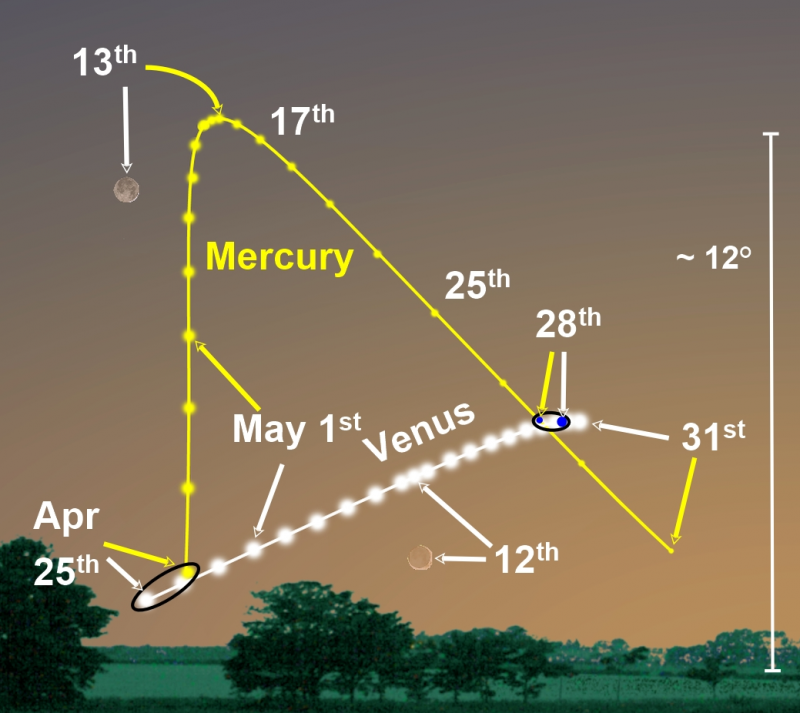 However, its brightness does have an effect on how well you can spot it depending upon where it is in its apparition. For morning apparitions, Mercury is brightest at the end of its period of visibility whilst evenings it is brightest at the start.
This brings us to our challenge as Mercury currently lies in the evening twilight and many have been out spotting it low down in the NW whilst the planet was at its brightest. It is now just past its Greatest Elongation East on May 17th when it is was magnitude +0.4 but from now on it descends into the brightening twilight and more importantly fading all the while.
There is good news however, as it drops lower towards the horizon, we are fortunate in that Venus and Mercury lie close together on May 28th when they will lie just ½ degree apart with Mercury to the left of Venus. So, we have the brilliant Venus shining at magnitude -3.9 to guide us to the much fainter innermost planet (mag +2.2!), before Mercury drops out of view at the end of the month. One thing that will impact your chances is how low they will be in the evening sky, so you need an uncluttered horizon for the best chance of viewing them. If you live in a hilly region or in a built-up area then perhaps now as restrictions are being lifted you might be able to venture out to find a suitable NW facing spot.
See how long you can spot Mercury for both naked eye and binoculars in the last week of May and let us know how you get on. Remember to ensure the sun has set before you begin to look for Mercury!
* Paul writes Night Scenes, an annual guide to the Night Sky from which this has been taken. Night Scenes can be found at http://www.astrospace.co.uk/nightscenes/ns-current.html

The British Astronomical Association supports amateur astronomers around the UK and the rest of the world. Find out more about the BAA or join us.