2021 December 20
BAA Sponsors SolarChat!
I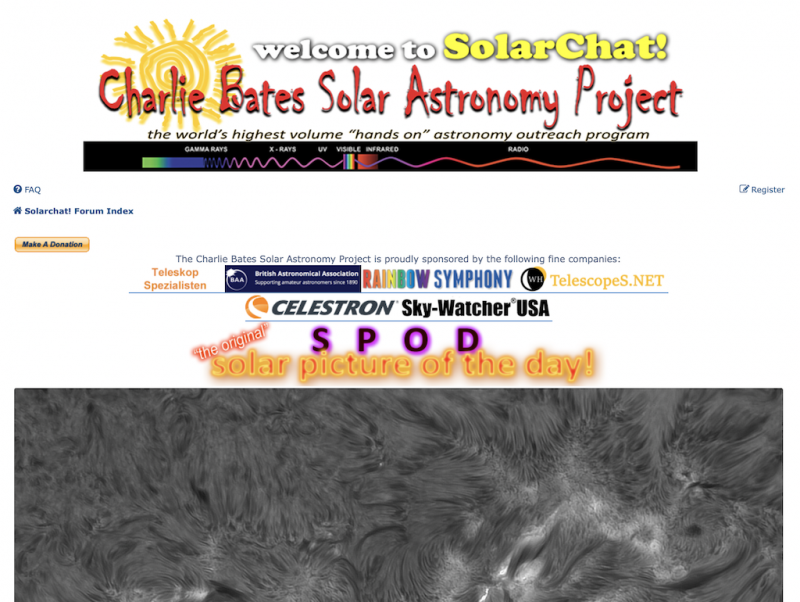 n December the BAA made the decision to become one the major sponsors of the SolarChat! Forum. The sponsorship will help support some of the running and administration costs of the forum. The SolarChat! forum is hosted by Stephen Ramsden, founder of the Charlie Bates Solar Astronomy Project (CBSAP). CBSAP aim is to bring together solar astronomers across the world to share knowledge and most importantly to share the Sun with others.
Stephen created the forum in 2011; he wanted to start a forum where everyone was treated equally and everyone's posts, questions and comments would be valued and respected. The fundamental point of the forum is to bring the world's best solar observers and imagers together with all the newcomers in the hobby in order to reduce the learning curve and help everyone produce great results.
With this sponsorship the BAA aims to support the running costs of this forum and encourages anyone who wishes to join up and enjoy this friendly forum, to submit images and ask any question no matter whether it is basic or advanced.
The CBSAP supports astronomy outreach groups held in 22 countries (including the UK). The charity donates astronomy equipment, outreach and education to some of the poorest countries in the world. To date CBSAP has given away over 350 computer/camera imaging setups, 77 h-alpha and CaK telescope setups and mounts, over a million solar glasses and any other accessories needed by anyone who asks and has a legitimate outreach need, all at zero cost to the group.
The British Astronomical Association supports amateur astronomers around the UK and the rest of the world. Find out more about the BAA or join us.