2021 August 30
VSS Circular 189, September 2021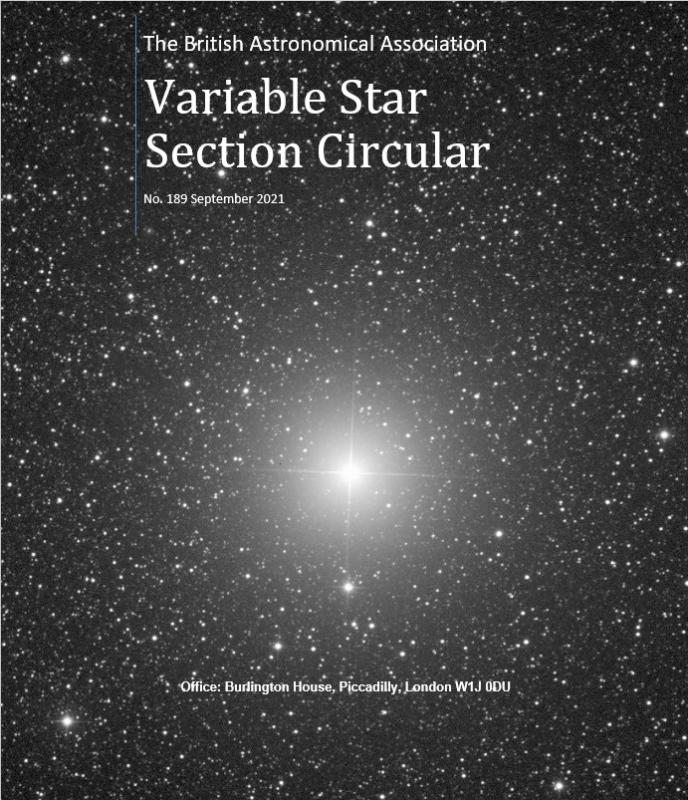 The September 2021 Variable Star Section Circular, number 189, is available for download here.
Many thanks to all our contributors and to our Editor, Gary Poyner.
Contents
From the Director
Autumn Miras
200k visual observers – John Toone and Peter Williams
Books from a bygone era with links to observers of the early years of the BAA Variable Star Section – Jeremy Shears
Uploading observations: Making sure you are using recognised sequence names – Tracie Louise Heywood
Investigating 'Stray' estimates in BAAVSS light curves – Tracie Louise Heywood
NSV 1178 is likely a "Dipper" Variable and a good target for Visual, Photometric and Spectroscopic monitoring – John Greaves
CV & E news – Gary Poyner
Eclipsing Binary news – Des Loughney
Observations of the Eclipsing Binaries BM Cas and V413 Aql, suggesting ongoing changes to their light curves – David Conner
Section Publications
Contributing to the VSSC
Section Officers
Jeremy Shears
Director, VSS
Image: RS Ophiuchi in outburst, August 09.557 UT 2021. iTel 0.51m CDK f4.4 – FLI PL09000 CCD 120 seconds luminance. Martin Mobberley, Bury St. Edmunds, Suffolk, UK
The British Astronomical Association supports amateur astronomers around the UK and the rest of the world. Find out more about the BAA or join us.